Canada's Cannabis Car....WOW!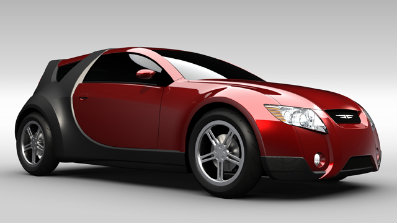 Canada
August 27, 2010 6:01pm CST
"As we're faced with an increasingly large world population and ever-dwindling resources the race is on to produce cars that not only produce zero tailpipe emissions, but ones that are green to manufacture too. But what is the ultimate material for cars? Steel is strong, but hardly light enough to make ultra-efficient vehicles. Many plastics are based on oil, and composite materials like carbon fibre are difficult and costly to manufacture and repair. Enter the Kestrel. Designed and engineered by Motive Industries, a Canadian firm based in Alberta, the fully electric car features a body shell made of hemp--which may be better known as Cannabis Sativa L. Hemp grown by AITF ends up on a production line, where it is turned into a composite material that has the impact resistance of fiberglass. But unlike fiberglass, the hemp bio-composite is cheaper to produce and has fewer health risks connected with its manufacture. It is also significantly lighter than glass-based composites traditionally used in racing cars" http://www.foxnews.com/leisure/2010/08/24/canadian-cannabis-car/ What do you think of this? I think I would buy one if I wanted a durable sporty little car. I wonder how much they cost?
5 responses


• Canada
13 Sep 10
I believe they have different models, not just this one. Let me see if I can find a link.

• Canada
13 Sep 10
It being an 'electric car', they only come in models that hold 4 people including the driver. It is difficult to have enough electric power to haul around really heavy loads, I guess.

• Canada
27 Aug 10
I feel like such a hippie for saying it, but hemp seriously is an incredible resource. It's really a shame that we are unable to utilize it as much as we should be able to. I had never heard of this car before, but it's pretty impressive. Not bad to look at either.

• Canada
28 Aug 10
Yes, I believe that the gov't banned Hemp (Cannabis) because the pulp and paper industries realized that Hemp would replace them as a cheaper, safer, faster alternative. It takes 20+ yrs to grow a stand of trees that they cut down to make pulp and paper. This causes an entire ecosystem to grow in that stand of trees (forest). Then, they come along one day and clear cut all of it, leaving all of that wildlife stranded with nowhere to go. So, they end up as road kill and invading our towns and we kill them. Whereas a Hemp crop only takes one growing season (May - Oct) to grow and is cheaper to harvest, uses less harmful chemicals and is actually more versatile in many different industries.

• Canada
28 Aug 10
Yep, I have heard this many times before and entirely agree with you.

• Shingle Springs, California
27 Aug 10
Ok now how is this a myLot discussion?

That's pretty darn cool. Think it will ever be legal in the US?

• Canada
28 Aug 10
We are discussing a brand new innovative product that was just invented. How can that not be a good discussion? And I'm sure that we will be exporting them to the US in time. Particularly since we are major trading partners. Neighbours.

• Canada
28 Aug 10
"Plus, it's illegal to grow it in the U.S., so it actually gives Canada a bit of a market advantage," Armstrong added. The U.S. does allow the import of processed hemp. Read more: http://www.cbc.ca/technology/story/2010/08/23/cannabis-hemp-electric-car-kestrel-motive.html#ixzz0xtzQoaww

• Canada
13 Sep 10
Bloody good idea moon!

Now you're thinkin'. I believe it is quite versatile.

• United States
28 Aug 10
Well hello there AnnieOakley!

Good to see you again! Now that you have a few discussions up, I better be getting busy on that star of yours, huh?

Not a problem dear! Not a problem! As for this car, I'm not sure if I'd want one or not, it depends on how sturdy it is especially when it comes to accidents. I don't want something that's going to end up in my lap if I'm in an accident, if you know what I mean.

Light weight is good as long as it's strong to keep us safe from being mangled into bits and pieces.

• Canada
13 Sep 10
It says in the article that it is made into "a composite material that has the impact resistance of fiberglass." I wonder how strong that is compared to steel?

• Canada
13 Sep 10
Here is a link that states; "The car is a 4 passenger compact electric vehicle made of impact resistant bio composite material. ....the material comes with the promise of achieving the same mechanical properties as glass composites." http://www.autoevolution.com/news/kestrel-the-cannabis-car-23658.html

• United States
28 Aug 10
Wow! If it ever caught fire, if you stood close enough, you just wouldn't care. Probably just make comments like, "Far out!"

Very interesting concept! I like things made from hemp, like purses and shoes. I like the natural feel they have to them... better than cotton, in my opinion. I'd buy one, too!


• Canada
28 Aug 10
LOL, good one marti. Actually Hemp has minimal THC, so it won't get you high. But yes, Hemp IS a very versatile, useful, renewable product. A new crop can be grown every year...as it is an Annual crop. I have a hemp rope, and it is both soft and strong at the same time. It is my favourite rope, actually.