Ibrahimovic moves to AC Milan from Barcelona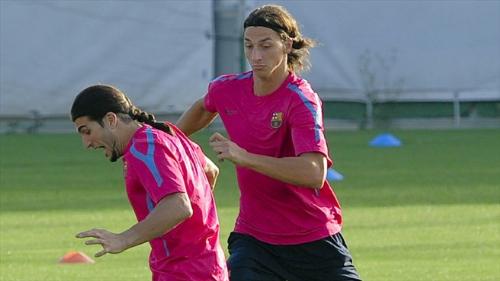 India
August 29, 2010 12:22am CST
AC Milan has finished the transfer of the Swedish Captain and Barcelona Striker Zlatan Ibrahimovic for a season loan of 24m euros. It is a very good move by him after Barcelona has lots of strong lineup at attacking midfielders and strikers. He may not get enough chances in this season. After transfering from Inter Milan last year, he scored 16 goals from 29 appearences in La Liga. AC Milan now has another strong forward lineup alongside Ronaldinho, Pato. I am hoping much better performance than last year from AC Milan this season.
9 responses


• Romania
31 Aug 10
And Huntellar move in Germany at Shalke 04, in this morning.



• Indonesia
29 Aug 10
ibrahimovic in Barcelona I think it is a good way to build and make World Cup Champion 2010 Spain best ever. but MIlanisty gonna cheer up for Ibra. Best ever For Soccer Italy, were getting decrease on football achivement. Hope it can bring advance the italian teams, for thair prestise and achivement "WELCOME IBRAHIMOVIC"

• Taiwan
29 Aug 10
AC Milan actually made themself a good deal there. Barcelona offered 46m (euros) plus Samuel Eto'o (which was worth around 20m at the time), around 66m in total, to Inter for exchange of Ibrahimovic. And now AC Milan loan Zlatan for free and could buy him for 24m. By the way, this deal will make add Zlatan to players among who had played for three great Italian football club. Really nice move my AC Milan there.

• India
29 Aug 10
I think the Italian Serie A is a better fit for Ibrahimovic. I think he was not a great deal for Barcelona as they lost out on a proven scorer in Eto'o while signing him on. And his return has not been great, Barcelona expected at least around 30 goals from him, but he could only deliver around 50% of that!! Coming back to Serie A, I think Ibra would find it better to his suiting as he did when he used to play for Inter. Cheers! Ram

• Indonesia
29 Aug 10
ibrahimovic is the best striker in the world. he moved to barcelona just to reach his dream winning champion league title. but in fact, after the exchange transfer with e'too, ibrahimovic still can't reach his dream. milan is a big team also and i think Ibra will easily get involve in starting 11. but remember, Milan is dominated by old player and it is difficult ti reach his dream by joining Milan.