Ahhh... 90s... What stuff were you into in the 90s?

Canada
August 29, 2010 12:28pm CST
I absolutely enjoyed listening to Spice Girls Backstreet Boys Nsync ---- oh nostalgia. :) Occasionally Smashing Pumpkins and the Red Hot Chili peppers - which I still pretty much listen to every now and then. What about you? What music were you into back then?
7 responses

• Philippines
30 Aug 10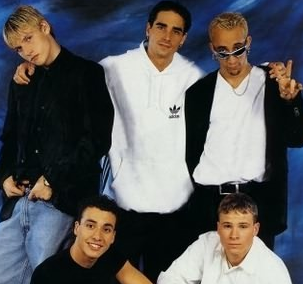 Hello Life Guru,

The Back-street boys where the best for me. although i never got the chance to learn their song, I have always been fond of listening to them. but there were also a lot of songs that i listened in the FIipino, and the best was none other than the Eraser Heads. things were a bit more different then. i think the 90's were the last era of innovative music. the rest in this decade are mostly nothing more than REMAKES


not a referral LINK.
http://www.youtube.com/watch?v=0dx-hOveXGs

• Philippines
1 Sep 10
Words are True, LK This is so true in our country I remember going to a local mall in muntinlupa and the motorcycle that was next to the Jeep i'm in, played a Tagalog version of Rihanna's "Umbrella" Indeed, it's a generation of remakes these past few days.

• Belgium
31 Aug 10
Spice girls of course. :D They were awesome, my friend even had the Spice Girls movie and I've probably seen it about 10 times. I was somewhat into Backstreet Boys as well. I now listen to the Smashing Pumpkins, but at the time I hadn't even heard of them. But then again, I was born in 1991 so I was fairly young in the 90s.

• United States
30 Aug 10
I was into Metallica, Nirvanna, Soundgarden, Aerosmith,and Alanis Morissette.And I also revisited my country roots by listerningto Vince Gill and Alan Jackson.

• United States
29 Aug 10
Ah...the 90s, music was great back then. I was more into the R&B so I was listening to groups like Boyz II Men and TLC. Can't stand the supposed todays R&B music, if you can even call most of that mainstream stuff R&B. Mariah Carey was also great to listen to too. Also, can't stand her newer music. I also listened to Ace of Base as well as the boybands of the later 90s like N Sync, Backstreet Boys and 98 Degrees. And then there were the individual songs that I still listen to today. Songs like "Someone to Love" by Jon B and Babyface and "Nobody Knows" by Tony Rich Project.

• Philippines
29 Aug 10
I was into Snoop Dogg, Dr. Dre and 2pac. Back in the days when Hip-Hop was more fluid, lyrical and awesome, it isn't the same today as everything has that "Gundam Voice" in their songs. Other than that I'd listen to the one-hit wonder songs of the 90's like Barbie Girl. But for local filipino music, I usually listen to South Border (back when they were better). 90's FTW!

•
29 Aug 10
Blur, Placebo, Radiohead, Catatonia, Space, Pulp, Supergrass, Ash, Sleeper, The Verve, all that sort of stuff. which makes me guess I might have been a bit older than you in the 90s, by about 3 or 4 years. maybe, just a guess, but your music is more what my cousins were into. I loved my 90s music.