Do you think someone can be healthy even if they smoke and drink?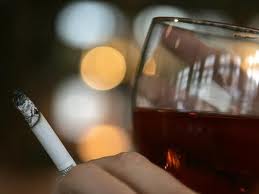 United States
August 30, 2010 1:52pm CST
There is a difference between being healthy and being fit. Being healthy means you have no health problems. Even fat people can be healthy (maybe not in the long run but still healthy). Now when something starts to impede your health that is when you become unhealthy. So even if you are healthy and catch a cold you are then unhealthy. When you are better again you are healthy (as long as you don't have any other physical problems). Smoking even one pack a month (which I used to) can play hell with your breathing. I love to sing but while I was smoking I found it much more difficult to hold longer notes and even breathing while taking my regular walks was more difficult. I stopped smoking. I drink very rarely. Alcohol (even just 1 drink) can give me a stomach ache. I have no idea why, but it does. So I rarely drink. I would say smoking in any amount is not healthy. But drinking in moderation can be fine and you can be healthy. If you are really careful and you can determine the rate at which your body processes alcohol and how much is just enough for you then you will be fine. It is when you drink so much that your body and liver cannot process it that it becomes dangerous and that is why people get drunk, which is really them being poisoned. And that is why alcoholics often end up with severe liver problems later in life.
8 responses

• India
30 Aug 10
it can't be possible to be healthy on smoking and drinking. our body requied fresh air , water ,and food so when we take contaminated food or other thing thats unrequired to our body it damage our inner part of our body.we clearly know that on smoking our lungs filled with carbon which cause lake of oxygen on body ,then our body will never purified no such amount of blood . and on drinking it cause our kidney, in this process when the drunk liquid moved from stomach to kidney it block the purifier of kidney which cause kidney fail on over drinking .cause un purified blood on body it cause many type of disease. so i frequest to all mmy indian not to drink and smoke.and try to avoid this things which is god for every one.

• United States
31 Aug 10
That is very interesting, very scientific, thank you for your response it is very detailed and enlightening.

• Philippines
30 Aug 10
Wow. Very informative. Honestly, I didn't know drinking could cause that to your liver. I am currently trying to stop smoking but I drink occasionally. I can say that I am not healthy although my x-ray tells me otherwise. I can feel smoking taking a toll on my body.

• Philippines
30 Aug 10
Smoking and drinking were unhealthy habit that leads to poor health. But, if one can't control himself with these. Do it in moderation. Still, not a guarantee to remain healthy.


• Singapore
31 Aug 10
It's a yes for me, because my brother is one such person! He's a smoker, smoking up to one pack everyday, and drinking out there every weekend. Many would expect him to be sick, unhealthy etc, as he does look a little on the skinny side though. But when it comes to physical test, he's the healthiest among the others, achieving gold standards every year, without fail. When many expect smokers to be low in stamina, pant easily etc, but my brother is the opposite. He trains harder than anybody, in order to prove that, smoking can be healthy too. He's done that, and i'm impressed, especially in his running, 20m25s for 5km!!

• Bhubaneswar, India
31 Aug 10
I have seen my dad's elder brother and also their father.Chain smokers smoking out 3 pack every day. Add to that two pegs of RUM and they are healthy and fit more than many of their age. So I think it is not that habit that is to be blamed. It is just the destiny and times when things go wrong.

• India
31 Aug 10
Being healthy means being free from infirmity, or disease. Fitness means being in shape and right condition. One who smokes and drinks cannot be either healthy or fit because smoking and drinking as everyone knows is inimical to ones health and fitness both. Smoking depletes the much needed supply of oxygen to blood and drinking in excess, leads to sicknesses like diabetes and High blood pressure. It also affects the functioning of liver in the long run.