Making money online?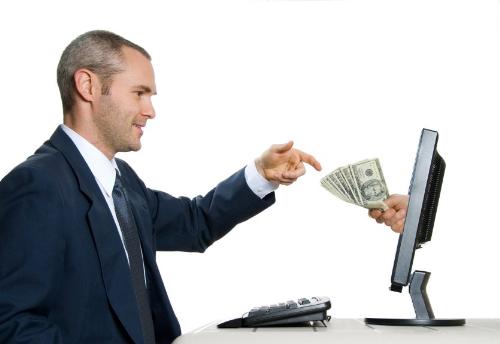 Egypt
September 5, 2010 3:03pm CST
Does anyone know any legit site of making money online without me having to deposit or invest anything? Legit websites that are not marked as spam or have scam reports on them? And something that is not country restricted? Does anyone know how to make money online and then have that money sent to your Paypal account? That's all I want to know, please provide the website link and some details about the website, thanks!
7 responses

• United States
5 Sep 10
No investment? You are either going to invest your money or your time. Making money online is about thinking and coming up with your own ideas and implementing those ideas. Because online you are your own employer, whereas off line you work for some one else. It never ceases to amaze me how people go round and round in circles trying to find ways to make money, when all they need to do is stop and think. But that is the problem these days, people just don't think. I guess it's ok because it leaves more for me in terms of making money online. Also what works for me might not work for you because they are my ideas. If you could make money online any way you wanted, what would you be doing? I say start doing your homework. I've been at this for the last 10 years and even to this day I still spend a minimum of 4 hours per day reading marketing newsletters and looking at sites that I might be able to make use of in some way. Oh and I work 7 days per week, holidays and weekend are no exception. I like money and I like lots of it.

• United States
5 Sep 10
I agree with you about investing money or time and sometimes both!

•
6 Sep 10
I'm totally agree your view in time and invest.No matter weather we need to invest money or not, we will spend too much time on the website.Once I spend 8 hours a day in this way to earn money and this make me do not want to have a formal work.After a time, I felt this way on making money was wasting time and I give it up.Now I have a good job and I feel satisfied.

• United States
5 Sep 10
Check out my blog on my profile for a variety of free websites to earn money on. The only site on there where investing is recommended to earn is Kooday, but I don't know anyone who hasn't had some success there. However, even Kooday can be free if you refer people to the site, so you might be wise to check it out. Thanks and good luck!

• Canada
5 Sep 10
There are many ways, legit sites, to make money online. Some need investments, some don't. One of my favorite ways is writing online, since writing is my hobby since my schools year, and I very much enjoy writing articles, short stories, reviews, and so on. If you like writing too, here is a site I have been making money. It is "Review Stream". Here, you can write brief reviews on a variety of topics, things you come across in the day-to-day activities, shopping, movies, restaurants, travel, hotels, and so on, and get paid.

• Philippines
6 Sep 10
well you could look at my websites for more sites that pay and some guides in it. but i suggest using toneaday its a fast earner and im earning $10 a day because of this website.

• United States
7 Sep 10
I write for Helium, Triond and Review Stream. If you like to make videos of yourself talking about things or tutorials or reviews, upload them on Blip.TV.

• Malaysia
6 Sep 10
Mirror Mirror on the wall, where's the legit site of them all? [Here]

Keep it up...