Should religion books like Quran/Bible/Torah/others should be burned?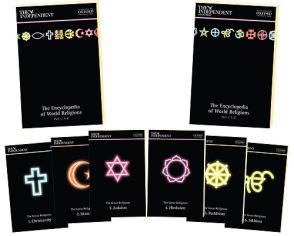 Malaysia
6 responses

• United States
7 Sep 10
That is an interesting question. Selfishly, I would say that all those books should be burned and all other existing copies or anything that everyone might get ideas from should also be gone. That is my selfish answer and my reason is that if that happens and people are lost then we can all be together with the new religion that we will form. Religious people don't bash me for my selfish thoughts, I'm just trying to be honest.

• Malaysia
7 Sep 10
History has shown trying to imprison the mind of people are works of tryant like taliban,North Korea,Big Revolution of China under Mao,Communistim in Early RUssia ,sosialis under hitler and few others throughout the centuries.It is when people are lost,badass will take over and cause humanity to jump off the cliff into the gutter.But of course it is my opinion only.

• United States
8 Sep 10
Yeah being religious mean devotion and faith to one so you exclude others causing boundaries where one shouldn't step or hell will broke loose.

• Indonesia
8 Sep 10
Yes, you are correct. If burning done, will only create hatred. Inter-religious harmony is threatened, and probably will happen is something bigger, perhaps it could be war between religions. I can not imagine it. Why now mutual respect have been hard to find.

• Malaysia
9 Sep 10
Yes mutual respect is important.Even with different religion views on matters, they must have the right to express it and also have the right to agree to what to disagree in peace and civil manner.This is important for a civil society to function and exists.Freedom of expression in my opinion does not include the right to cause hatred to provode and cause civil unrest.

• Philippines
7 Sep 10
Why burn? These are good historical and literary books if you don't want to look at it in a religious point of view. And besides, why blame the books when it is people who hate and become angry at any reason given under the sun? And another besides, burn the books the ideas contained in the books remain...and your problems still remain. Perhaps we have to view hatred and anger in people in other ways.

• United States
7 Sep 10
I think burning anything that has meaning to a group of people is hateful and wrong because it's disrespectful to that group of people. It's as basic as 'don't do things to other that you don't want done to you' and everyone should live by that 'golden rule'. You want respect, show respect to others and people as a whole are sensitive people so one act like burning something they deem as sacred it something that can be unforgivable.


• India
7 Sep 10
I don't think that the religion books should be burned as they are a great source of knowledge for the people. The religion books don't teach us that we must create differences between the human beings. They only teach unity and doing good deeds. When the books were made, they were mad by keeping one purpose only and that was to make people believe in god. The feeling of superiority creates differences. Every one thinks that their religion is superior to the others and the other people belong to a inferior race. This is the reason for hatred according to me.