My dog lost her collar - what type of collar should I buy?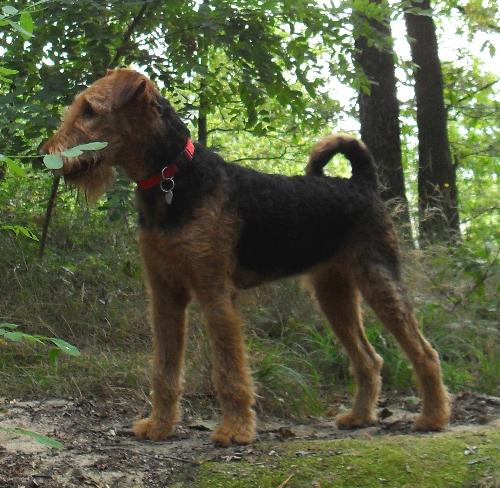 Romania
September 8, 2010 2:39pm CST
The other day we were hiking in the forest near our town. We are lucky to have a lot of woods close to our town.

Binne was, as usually, of leash, she run and played free and she enjoyed every single moment in the outdoors. Usually she doesn't go too far from us, but she doesn't miss any bush. Everything need to be researched. When we were on our way back home, I've noticed that Binne had no collar.

I was surprised, as the collar she had seemed a safe one to me. We went back in the bushes Binne researched lately, and I found the collar hanging on a branch. So Binne had passed by at a full jump and she had lost her collar there. Binne has her red collar back now, but I'm not sure this type of collar is a safe one, so I think to buy her another type of collar. All the collars she has at the moment are the same type with the quick snap closure, but they are different colors and designs. What type of collar should I buy? Would you recommend me some collars that you've used and you've found satisfactory?
2 responses


• Romania
20 Sep 10
I know some dogs need to wear harness instead of collars, due to medical problems or due to old age. I think Binne will also wear a harness when she learns how to behave on leash. For now, she has to wear a collar, because she is so young and strong and sometimes almost uncontrollable. Sometimes, when she sees another dog, she start to pull on the leash so hard! I imagine if she worn a harness, she would knock me down in a second with her power! She is not a small dog any more, you know. And she is only 9 months old.

• United States
8 Sep 10
I just have regular snap collars for my puppies, but I saw one not too long ago and I should have saved the site because this collar looked safe, and yet had the capability of the one collars that work similar to choke chains. Sorry I wasn't much help, but if I find it again, I'll share the link with you..

• Romania
9 Sep 10
All the collars Binne has are the same "quick snap" collars. But after the experience we had the other day, I don't trust this type of closure any more. I thought it was a safe closure, but if Binne managed to open it in a bush, I'm afraid she could escape in the middle of the road, and this could trigger a disaster. I don't want to think what could happen! I think I saw once a collar like you've described. It was a vinyl collar with a little chain that made it similar to choke chains. But I didn't order one, because I don't know how does a choke chain type of collar work. That's why I started this discussion, I thought I'd receive some good advices.