SILENCE means YES???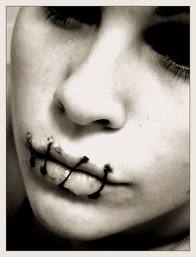 Philippines
September 9, 2010 12:19am CST
I don't think so...When someone is being asked and then he paused for an answer, that only means he/she is uncertain about it.
8 responses

• India
9 Sep 10
Sometimes, when someone is asking for an answer, we want to say no, but due to hesitation, we are unable to say no, may be due to the reason, we do not want to hurt that person. Or may be due the the reason that we respect him a lot and we are not in a position refuse him on his face. Or it may be due to fear, that if I said no, he will hurt us either mentally or physically, as the case may be. Reverse could be the answer in all the above cases, we want to say yes but due to one or more of the above factors, we are not in a position to say no, on his face and hence we keep mum. Silence doesnot have any meaning, it is just starting point of a confusion.

• United Arab Emirates
9 Sep 10
no idon`t think that silence is yes always, many a time person refuse to answer of remain silent is bcasuse of the question itself or they might feel disgusted about the whole content :)

• Philippines
9 Sep 10
Hi! It could be a mistake to interpret silence as yes as it could mean so many things. It could even be that a person does not respond to avoid hurting somebody or may want to play it safe or a lot of other things. It would be better to take the context into consideration before interpreting. Or better still, not to give any interpretation at all since we do not know what is going inside anyone's mind.

•
9 Sep 10
For me silence doesn't mean yes and it also doesn't mean he/she is uncertain about it in certain situations. Sometimes we just don't want to answer a question yes or no, sometimes it happens to me. I find that person has no right asking me that question maybe it's too private for me to answer to that person, maybe I find that person asking me rude and by answering him/her yes or no I will have to face a trouble and I keep my silence. But generally people think that means yes.

• Philippines
9 Sep 10
True. I wouldn't come up with a conclusion anyways that once a person is being in the state of silence that means, he is thinking and yes, uncertain about it. Like myself, I don't give yes as an answer immediately or a no although this would depend on a situation and I am re considering things that would eventually happen if I have to permit it. You have a good observation here and perhaps we can ask the person first with an actual answer to come up with an actual conclusion of the person's response rather than being in SILENCE.


• Philippines
9 Sep 10
You're right, why do people always say that when you are silent when being asked something it already means yes? It's not always that way, maybe the person being asked is only thinking of the pros and cons of his/her answer, uncertain or don't know what to say..