Laughing Buddha and tiny bamboo plants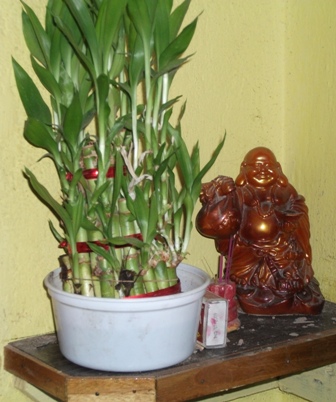 India
September 9, 2010 5:58am CST
Friends, as per suggestion of my 'guru' and spiritual guide,

I have kept a statue of 'Laughing Buddha' and a mini bamboo plants on the left side of entrance to my room.

(See picture) This is supposed to bring good luck. I show incense sticks to these after bath and pray to bless me. He also told me, if more leaves sprout from this mini bamboo plant, it is a good sign for me and the family. Money will flow and happiness will prevail. Well you can see in the picture the new leaves that keep growing. Honestly speaking I received my blocked money from several sources. I feel blessed too, may be just psychologically.
I am not spreading any superstition, but sharing my experience.
Any such experience faith or experience to share from your side?
Professor

7 responses


• India
11 Sep 10
Hello I believe it works for me, i am sure of it. Thanks Welcome.

Cheers.

Professor

• India
11 Sep 10
Professor, I am happy to be back at your page to participate in the discussion you have brought up. My catholic background did not allow me to believe in all this and I considered this as a superstition. Until one day after the sixth pay commission I wondered why my money was not coming. The cheques were being directed to other accounts. I was forced to enter into protracted correspondence with my office and bank and still nothing was happening. I was mad with rage. I found it simply inexplicable. Then one day I found a statue of a laughing Buddha in one of my drawers. My daughter in law after she with her family went away to stay separate had it and I kept it in the drawer to give it back to her. Then I remembered someone telling me what a disrespect to this statue can do to you. I immediately placed it facing the front door. Then my visiting daughter also gave me one, which I placed alongside the other statue. And lo all my money poured it. I never had problem thereafter. The important thing is that you should not buy it yourself. Some one else must either give it or present it to you. From then on I began believing in the power of laughing Buddha. I do not know much about bamboo plant though I have seen them in my daughter's house and I always considered it a decorative piece.

• India
11 Sep 10
Hello friend, these were gift to me on my 64th birthday. Glad to know now you believe on power of laughing buddha...Bamboo tree too works, if it is not effective it dries out. Thanks for sharing your opinion. Welcome.

Cheers.

Professor

• Philippines
10 Sep 10
dear professor, i am happy for you for having received your money which were blocked from several sources.

i guess the laughing Buddha and the tiny bamboo plant really worked on you.

have a great day. ann


• India
11 Sep 10
Hi Anny dear Yeah they worked for me, next time when i go to your home, i will carry both for you as gift.. Thanks Welcome.

Cheers.

Professor

• India
9 Sep 10
I have heard about this belief, but honestly I don't believe it. I am happy to hear that it worked out for you. I have the statuge of laughing budda in my house which is in the left side shelf of my bed room. I don't know it will bring good luck to me. I am having a bad time now and I hope it will change soon. I like those bamboo plans you are talking about; one of my friends had that.

• India
11 Sep 10
It is okey, if you don't believe this, hope your bad time will go soon.. Thanks for response Welcome.

Cheers.

Professor

• United States
9 Sep 10
I have the Laughing Buddha, but not the bamboo plants yet (I will be getting those soon), I also have a Buddy Jesus, and Joseph and Mary (I used to be a Catholic). I like collecting things like that because it reminds me that these deities were also human.

• India
11 Sep 10
Thanks for response, well if you have faith, get them, be blessed. Welcome.

Cheers.

Professor

• China
9 Sep 10
Well, I don't believe in any religion from my heart, but before examinations, I usually crossed myself or put the palms together unconsciously. This can be described by a colloquialism - make effort at the last moment.

Yes, it's only a psychological consolation.

• India
9 Sep 10
Thanks for response. Welcome always , cheers.
Professor.
.


• India
9 Sep 10
i used to have a lucky bamboo in my living room it grew pretty well but , i never cared about luck or any thing it was a wonderful eye-catcher !! but some months ago i moved on to my mom's house and the bamboo... dried off ... never had a laughing buddha ....

• India
9 Sep 10
Hello crazy try to acquire new Thanks for sharing. Welcome to mylot , cheers.
Professor.
.