Which team can win 2010-2011 Uefa Champions League?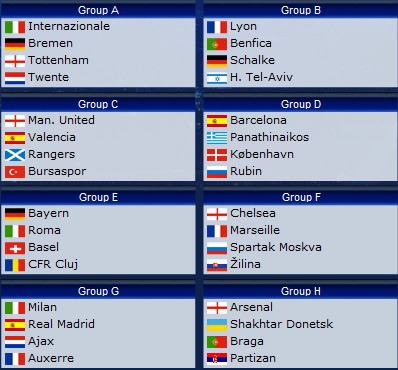 India
7 responses

• India
10 Sep 10
There are 32 teams..I think some of the best teams are not in ur list!! Consider Totenham...They have entered the Champions league with a very good performance in the premier league last season.. I think they could reach semis... My 4 favorites for the semi finals would be Internazionale , Manchester united, Barcelona, Bayern\Real.. The winners would be manchester united!!!

• India
10 Sep 10
Last season's results in the Champions League has really opened it up for this season. I hope this year too we have more than one country's representative in the semis. I would think Chelsea, Barcelona and Bayern have great chance of winning. The other possibilities are Man U, Arsenal and Real Madrid. Cheers! Ram

• Indonesia
10 Sep 10
it is very difficult answer, but my prediction is barcelona with the new star david villa will be the strongest team in champions league this season, altough my favourite team is inter milan

• Indonesia
10 Sep 10
i prefer to choose my favourite team, AS ROMA even for some of people, it`s impossible...i do believe now AS ROMA is more prepared to get tittle in champions league..we are not afraid to meet bayern...we appreciate munchen as one of the legend in champions league, but bayern will be beaten in our home, olimpico stadium ..

• Brazil
9 Sep 10
I would bet on Barcelona. The best team in football today, with the best player.

• Romania
9 Sep 10
I would like Bayern to win the Champions League, but I think Barcelona will win it. They are much too strong for other teams and they can only be beaten if many of their players are absent because of injuries or suspensions. I hope that Bayern will win, because I am a fan of them since I was a little child, but I think that Barcelona is too good, they have now David Villa who is much more dangerous then Ibrahimovic. And they have Mascherano who is a tremendous defensive midfielder. They have also brought Adriano, but the rest is playing together for long, they know each others moves and they find themselves with closed eyes. I believe that Barcelona is going to win everything this season, and they will win both matches vs. Real, because the difference between the two teams is pretty big, I believe. But like I said, I am hoping for Bayern to win it, if not this season, then the next one, because the final is at Munich.

• Indonesia
9 Sep 10
first of all, i wanna say welcome to mylot suman...you are newcomer here...i wanna respond about your interesting discussion...it`s hardly predicted when we wanna predict who will be winning this champions league ...because many factors, but i wanna explain with my mind. i bet that only 3 teams will be a strong candidates for this champions leageue, barcelona, bayern munchen and manchester united. i didnt pick up inter because they is not strong as last season when their coach is still in jose mourinho...but i didnt take madrid as favourite because this is the hard season for mou to repair or build again a madrid and he meet many problems in madrid..