Why do people let their dogs become fat?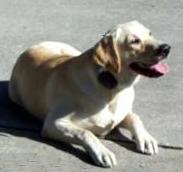 Romania
September 10, 2010 9:56am CST
Last evening I took Binne to our "doggie park". (I used the quotes because there is no official doggie park in our town. It's just an abandoned sports ground where dogs can play offleash.) We don't meet dogs too often there, but last evening we met Richie, a 6 months yellow lab. He was huge!

Not big, huge! I think he is three times the normal weight for a lab puppy his age. He started to play with Binne, but after a few minutes he was exhausted. He laid down and didn't want to move, nor play. He just laid there, with her tongue out, panting. I felt pity for the poor dog. He has no fault for being such a fat dog.

I asked his owner why they feed him so much, and she said that Richie likes to eat and all the family members enjoy feeding him.

I tried to explain her that an obese dog can have a lot of health problems, but I didn't continue the discussion. Richie's owner became angry because I dared to ask her about her dog's problem. I don't like to argue with somebody, so I put the leash on Binne and we left. I keep wondering why people let their dogs become obese? Don't they see they threaten their dog's health? Would you let your dog become fat?
10 responses

• United States
10 Sep 10
I am embarrassed to admit that my first dog was fat.I was only a kid and at that time, there was no talk of healthy eating for people let alone pets. She wasn't extremely overweight, but I am sure that she didn't need the extra weight she did have. The reason, besides not knowing, was because she was so cute and would beg with her beautiful brown eyes..(I know not a reason to overfeed, but like I said, I was a kid and there was no info about the health hazards of being overweight) Now today, I have learned and I found that even if you can see a little rib, they are still healthy. The only thing to indicate being too underweight is if you see the hip bones, that is when they need more food. But to have a sunken tummy and or a little rib showing, is healthy. Too much weight there they need less food. Now why do people have over weight dogs today? I don't know, maybe lack of knowledge, for unless someone tells them, they won't know. Or they don't want to know, it's their baby and to point our that they are overfeeding them makes them look like a bad owner and their pride gets in the way. I wouldn't have known about the tummy/rib/hip bone thing if my daughter didn't explain it to me. I think what you do is good, because though she got angry, maybe, just maybe she will consider changing this dogs eating habits. I remember once when we had a dalmatian and she started getting fat. I told everyone to quit feeding her and I decreased her food until she got back to a more healthy weight. Then one time while we were out driving I pointed to my kids why I did this when we spotted, (pun intended..lol) a dalmatian that was tied up at a dog house. This dog, inu, was so huge, I believe she was as big around as she was tall. My kids saw how this poor thing probably had many problems do to the excess weight so they took a big interest to make sure our Dana didn't get too fat..

• Romania
10 Sep 10
Well, you might be right Carmelanirel. The lack of knowledge may be the reason. But Richie's owner wasn't fat at all. So she knew that being fat isn't good for humans. Why would it be healthy for a dog? And poor Richie was only a puppy! What will he become if they continue overfeeding him? What you did with Dana is exactly what I keep doing with Binne. She gains weight so easy! But every time I see her gaining weight, I have to decrease her food until she get back to her normal weight. Fortunately, she looses weight as easy as she gains it.

• United States
10 Sep 10
Well Dana had 3 kids to keep up with, so she didn't gain it so easily..We just had to cut back on the amount of food, (I guessed how much she needed) and no more table scraps, at least not as much as she was getting.. As for Richie's owner, just she wasn't fat doesn't mean a lot. Until I started having kids, I ate whatever I wanted and lots of it and never gained an ounce. Some people naturally don't gain weight, so you can't go by the owner unless you know for sure the owner does watch what they eat..

• Romania
10 Sep 10

If your Dana had to keep up with 3 kids, Binne has to keep up with Tavi. He can eat all day and he doesn't gain an ounce, just like you said you were before having kids. When I'm at home, he don't give any food to Binne. But do I know what they're doing when I'm not there? I'm sure he gives her table scraps, because he admited he can't resist those beggar eyes.


• Philippines
11 Sep 10
I have an aunt who thinks that dogs should be fed whatever people eat. So if we are eating sweets, she would also feed the dogs the same thing. We try to tell her that fat dogs will have a lot of health problems but she gets angry and tells us that we are being selfish. She has a labrador who is 150lbs heavy! and now limps when he walks. Poor dog cannot even chase its own tail.

• Philippines
11 Sep 10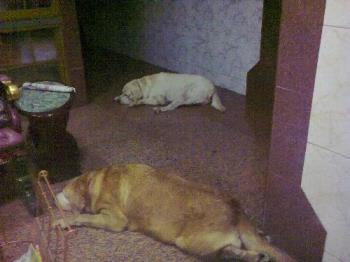 Here's a picture of the labrador of my aunt who has grown to an alarming 154 lbs. He eats anything. He lies around all day probably because of his weight. The white lab is my labrador who is tall, taller than most labradors I think. He is not fat but he looks intimidating because of his height. Most are scared of him on sight but he is really just a big baby.

• Romania
11 Sep 10
I'm sorry for your aunt's dog. Not only that he is fat, but he also eats a totaly unhealthy food for a dog. Did you try to explain your aunt what are the health problems a dog could have because he's fat? The fact her dog limps when he walks is a good example. Try to explain her that the dog's joints won't be able to bear so much weight for long. Maybe if she find that her labrador won't walk by himself any more, she will be more attentive at the food she give to him.

• Canada
12 Sep 10
Well I would be concerned for the dogs well being as well. This is very sad and is something I think is rather common. Killing our dogs with kindness. I have to particularly careful when my Yorkie and I are around family members because some like to feed her, at times that she doesn't need to eat. I am very fussy what my dogs eats. It is important for my dogs weight to remain in a safe zone for her breed due to potential hip and knee problems as she gets older. There was a time when my dog was getting a bit plump so I cut back her food and walked a little extra with her. It is for her best interest that her weight is carefully monitored. To answer your question, again I think it is because those who do over feed their dogs, do not set out to intentionally do so but feed out of their thoughts of kindness. It could also be the type of food one feeds there dogs. Mind you labs can be a heavy dog, I understand your concern that this particular dog is just over weight. Is it fat? Or is it muscle? Muscle weighs more than fat. The vet told me a couple years ago that my Yorkie should not weight more that six and a half pounds full grown and that it is important for me to not allow her to go over seven pounds. Winter okay to reach seven but no more. Well, I weigh her regularly and for the past year and a bit, she keeps weighing in at 7.5 pounds! Through discussing this with the vet, I was assured that she is fine. The dog is healthy and in good physical shape. The exercise provides healthy muscle and literally no fat. She's good to go. I am strict with her diet and her treats. She walks at least four times a day. Even if it is only for fifteen minutes. At least one walk is for a good hour or more however. At least the owner of the lab has enough sense to get the dog out to the park.

• Romania
15 Sep 10
I'm glad to find out there are responsible owners like you.

Your girl is a lucky dog. The lab I told you about was really fat. Not muscled, fat. If you saw the picture I uploaded into this discussion, the lab I mentioned is huge comparing with the one in the picture. I'm afraid that lab's walk in the park means nothing comparing to what he needs. Ten minutes for playing with another dog is not enough. And, from those ten minutes, most of the time he was laying down, panting.



• Philippines
11 Sep 10
My dogs are always fit because they play a lot. We do not have a history of fat dogs at home. We used to have a lot of dogs and feeding them to be fat will be too costly. However, I enjoy looking at fat dogs that are agile despite their weight because they look cute. I pity fat dogs who are lazy because I think they're sick.

• Romania
11 Sep 10
I haven't seen an agile fat dog yet. I thought all fat dogs were inert. I don't think that people who let their dogs become fat think about costs. They don't think about dog's health, how could they think of costs? Yet, I don't think it is costly to feed a dog to be obese. Because table scraps aren't costly. But I preffer to throw them away instead of feed them to my dog to become obese.

• Philippines
11 Sep 10
Oh so there's also such a thing as "obesity" among animals, I thought it is okay for the animals to gain weight. I have no dogs but for people who let their dogs fat, maybe they love watching these animals ballooned because it is more cute when they are fat.hehe

• Romania
11 Sep 10
I don't find cute a fat dog. Do you think a fat child is cute? I don't. The same happens with animals. You can understand that an obese pet is not normal by watching the wild animals. Have you ever seen a fat lion or a fat gazelle? If mother nature doesn't let animals begin fat, why would we change the normal course of life?

•
11 Sep 10
do not let them go bigger than normal, its a risk, you might have to go vet if that happens and the thing will suffer tigether with your additional cost. so you take care of your dog diets too, that way you have good result and money savings too.

• Romania
11 Sep 10
This is a good advice. A dog doesn't become fat overnight. As soon as dog owners notice that their dog's weight is going up, they must change something in the dog's eating habits, in order to bring him back to his normal weight. Because if they don't change anything, the dog will become more and more fat and the health problems will start soon.

• United States
11 Sep 10
They baby their dogs. Even though they are doing more bad than good. My moms is guilty for doing it herself. Shes told me that they have a short life so they may as well get what they want. I've told her that they may have a short life but having them live like that makes them suffer later on. I myself do not see me ever letting my dogs become like that. While some dogs are homeless and starving some where I won't let my dog look like a bowling ball.

• Romania
11 Sep 10
You should tell your mother that if she continue like this, her dog will have even shorter life. If she wants her dog to live longer, she should be carefull at what and how much they eat. A healthy dog lives longer than an obese dog that has to visit the vet often. Not to mention the additional costs for the vet bills...

• United Kingdom
10 Sep 10
Well she will find out the hard way and it is worse that they are ding this to a Puppy as he will develop a Heart Problem and no doubt other Problems It makes me angry when I see Owners letting their Dogs over weight I don't know why they do not realise they are just as bad as People abusing Animals because they are not taking care of their Health at all But you can't tell them because they think they are doing nothing wrong

• Romania
11 Sep 10
She started to become angry when I tried to tell her what health problems may Richie develop if they continue overfeeding him. I hope I'll meet them again, and then I'll try again to explain that they are wrong and Richie will suffer a lot if they don't stop feeding him in such an unhealthy way. The poor puppy can't even enjoy his puppyhood, he can't play and run as a normal puppy does!

• United States
10 Sep 10
My wife has been the main care givers with our dogs as for as their nutrition is concerned. Our old dog was really fit and lived to be nearly 15 years old. Our current dog is also really fit. So my wife takes good care of them. If I did notice that one of our dogs was getting fat, I would certainly say something. I think it is our responsibility to keep our dogs healthy.

• Romania
11 Sep 10
I'm happy for your dogs that they have such responsible owners. If your wife doesn't observe they have gained weight, you will be there to correct her. You're right, keeping our dogs in good shape is a responsibility. Nobody should forget that health depends on the food we (and our dogs) eat.