cooking caught on camera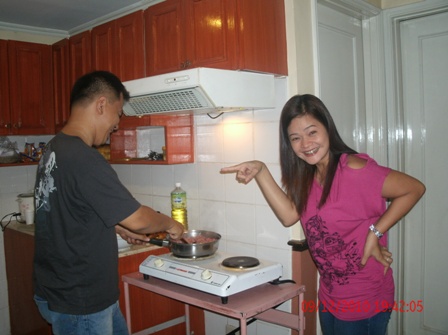 Philippines
September 13, 2010 7:28am CST
i am not good in cooking, i am good on eating har har har. but in some instance i am force to do it specially when my wife is busy. i can not say that i am the one who cooks but she makes me stir or mix something when it is needed. specially when she needs to get something in the fridge or something in our room. she was cooking spaghetti yesterday and made everything ready and just gave me instructions. a few of her friends will be joining us. funny while i was in the middle of doing what i was told she got the camera and gave it a snap. just wanted to share. har har har. the spaghetti turn out to yummy, it was fun.
4 responses

• Slovenia
13 Sep 10
hehehe nice picture. its nice to see people sharing pictures. i would do too but i already finished my lunch when i saw that. tomorrow! :)

• Philippines
13 Sep 10
welcome to the wonderful world of mylot sandi. thanks for the fast response. yes it is fun to share pictures and it is fun to share wonderful events as well. i know they are making a fool of me but it was fun to see the picture. my wife's friend knows that i dont know how to cook so they were very resisting to taste the food, but it turned out to be good. happy for that. thanks a lot for the response.


• Philippines
14 Sep 10
jen the lady with me on the photo is not my wife. she is a friend and she is laughing at me for they all know i am not that person who cooks, i do help around the kitchen but not cooking. they dont even want to taste what i cooked but lucky it turned out to be delish. thanks a lot for the response.

• Garden Grove, California
14 Sep 10
hi se7enthbird You make a really cute couple too. I bet she teaches you the basics and you will find you are indeed a good spaghetti cooker at least. I had the most fun cooking with my hubby and he was the better cook of the two of us. His beef stew was so good even my picky mom loved it too.You two really did look you were having a lot of fun.




• Philippines
14 Sep 10
but incase you think the lady with me is my wife, she is not my wife. the one who took the picture is my wife but the one with me on the photo is one of my wife's friends. she teaches me a lot in cooking but sometimes i do not pay that much attention for i know that i am not that good in cooking and i know that it will only go into waste. but spaghetti was kind of easy all you do is drop it and mix and wait to cook. i was glad it turned out to be good. my wife is a god cook i hope my son is good in cooking too

. thanks for the hugs hatley hugs back to you.

• Philippines
13 Sep 10

Hello seven, there's always first time to cook. funny, since i liked sphagetti so much I've always wanted to cook one. i remember my mom cooking pasta and she tasted it and she said it was awful. i tasted it too and it was great. i told her, how can it be awful when it's really that good. maybe you can cook more some day. am sure you'll get used to it.



• Philippines
13 Sep 10
this is not my first time buddy. the first time i cooked was witnessed by mylot as well. check this one http://www.mylot.com/w/discussions/2337017.aspx. i was more confident to cook on that event for my wife was around and giving me direct instructions. it was fun and successful. thanks a lot for the response