where is the most interesting place you have traveled?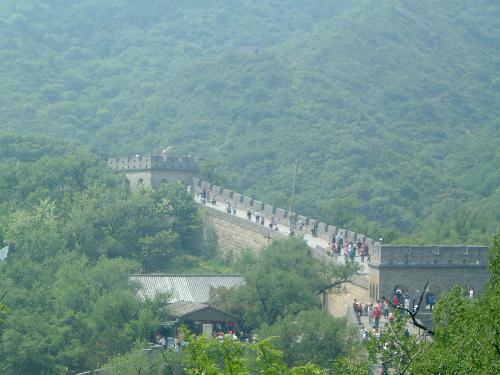 United States
September 16, 2010 4:38pm CST
Beijing was one of the most unique places I have ever visited. It was a true blending of old school values, with modern technology and architecture. I was able to see several shows, including an acrobatic show that was absolutely amazing. The forbidden city and Mao's tomb were very interesting. Where have you been?
3 responses

• United Kingdom
17 Sep 10
I have traveled to many interesting places in the world. I found it fascinating to visit Jerusalem when I had the chance to see the religious places. I saw the Dome of the Rock and the Wailing Wall. It was amazing to go over to the West Bank to see Bethlehem. I loved going to Samoa in the South Pacific Ocean. I found paradise and it is possible to travel there on a budget. I found traveling on the local buses amusing. I met some very interesting people and liked the culture. I liked the traditional accommodation. I saw an old Polynesian pyramid in the jungle there. Wow!

• United States
17 Sep 10
Many of the places that i wish to travel currently are in turmoil. Jerusalem is one of the places I would like to visit. My husband is not very interested in religious history, but he would go for me. i really want to go to Greece, but with their economic hardships, and the looting and rioting occurring, it does not seem very safe. Also many of the transportation options are not currently available due to the government not have the monetary resources. The Egyptian pyramids were amazing, even the little known ones were fantastic inside.

• Philippines
17 Sep 10
So far the most interesting place I ever visited is Camiguin Island here in the Philippines, it is such an amazing place with lots of beautiful tourist spots. I love to visit Camiguin some other time. Although Baguio city is another wonderful place I visited, I detested the road going to baguio, I am afraid of landslide hehehe. But I dreamed to visit other Asian countries like Shanghai, Hongkong, Singapore and Thailand. Europe is another continent I would love to explore if I have enough money.

• United States
17 Sep 10
I spent a year living in Japan, near Tokyo. My husband and I taught English at one of the language schools. Tokyo was very similar to Chicago, which is close to my home town, it did not seem really unique until I got to traveling the countryside. We wanted to travel more of Asia, and more specifically the Pacific Rim countries, but due to work schedules and a limited amount of time off, we had to decide on one place we really wanted to go. The Great Wall was the biggest draw for both of us. Beijing was the shortest flight.

• United States
16 Sep 10
So far, my travel has been limited to North America. One of the most unique places that I've visited in North America was Victoria, British Columbia. The feeling and architecture is quite reminiscent of what I would imagine it would be like to visit England. The western coast was my favorite spot but it was fun going to high tea at the Empress and visiting the Parliment buildings downtown. Quite a unique place to visit. Another unique Canadian destination is Montreal which is in French speaking Canada.

• United States
17 Sep 10
I actually have never made it out of the US for my North American travels. The next 10 or so years, I figure my travels are going to stay stateside. At least until my daughter is old enough to really appreciate the ancient cultures that my husband and I are so involved in seeing and studying about. Spending all that money, just to have a difficult child does not sound like any fun to me. I do want to visit Montreal. I never studied French, just Spanish.