How could something feel so right be so wrong?

Philippines
September 17, 2010 8:00pm CST
I have struggled these months with my relationship with someone who hasn't been loyal, yet when I get to talk to him, it certainly makes my day brighter. Holding back and keeping myself from talking to him made my days miserable. Yet, last night, I allowed myself to just give in and talk. The conversation was simple, yet it brought happiness to my heart. How could something feels so right be said to be wrong? I have had many people telling me that I should avoid talking to my ex. Is there a manual for break-ups and relationships? I'm happy today but I don't know if this shouldn't be?
9 responses

• Philippines
18 Sep 10
why did they tell you to avoid talking to him? if your still talking to your ex, it means that still have feelings for him. but if he doesn`t love you anymore, you should not expect anything. you should not let him go if you can bear his disloyalty. but having a one sided love is so unfair when you are in a relationship. it alright to be happy watching him living a happy life also. if you can feel the happiness for loving loving someone who hasn`t been loyal to you, how much more if a loyal guy who will love you as much as you love him comes your way?

• Philippines
18 Sep 10
They told me to stop talking to him so that I could get over him. Honestly, I don't know why I still want to talk to him and I think he wants to talk to me too. But we both know why. Perhaps I'm just denying the fact that I still love him. Perhaps he still loves me as well because when I ask him to call me, he still would. We're far apart in different countries.

• Philippines
18 Sep 10
does he have another gf? if none, i can also say that you still have feelings for each other. but if he has a gf and he is treating you like that, i guess you have to avoid him because he may also became disloyal to his new gf. you know how that feels so you should take right actions about it.

• Philippines
18 Sep 10
hi laydee! i know exactly how you feel because we share the same sentiment. there are few very important points that i learned and stages that i've gone through along the process of this kind of relationship that i want to share with you. first off, there is nothing wrong with doing whatever makes you happy. and it's not all wrong that you give so much love to someone. however, if honesty and fidelity is greatly lacking here, i don't think it's even worth another chance to pursue the relationship. you should not even wonder for yourself what you lack for him to go astray. this will create confusion and insecurity in you and it's not all good. one of the important things i learned is that people who are in a genuine relationship grow with each other, accept each other's faults and bring encouragement to each other. loving and trusting your partner doesn't need to feel like you're forced to do a task. everything that you feel towards your partner should come naturally. if you feel sadness being in this relationship, think twice now.also, do not ignore your instinct because it's real. it says something that is hard to explain but it is real. you can do better than that and certainly there's someone that is really meant for you. i started a discussion almost similar to yours about confronting a man who's lying. you might want to check on it and see the beautiful and sensible insights of other mylotters. they helped me realize and make a decision, it might help you too. Goodluck!

• Philippines
18 Sep 10
I thank you for your thoughts, but at this time I guess I'd just like to have a breather else I'd go crazy! You know what I mean? I mean, being miserable all these time has created a lot of insecurities on my part and I'm tired of thinking about it anymore. What matters to me now is that I wake up happy. Perhaps someday I could move forward, but but now, I am content of the little happiness along my path.

• Philippines
18 Sep 10
well yeah you're right. take a step at a time. just make yourself happy. it might depend on how you perceive things. i'm glad that even in the middle of all of these you still manage to get yourself feeling happy. if everything else fails, just think that you've become stronger and more mature and gained patience and deeper understanding not only of yourself but of others also along the way. enjoy the journey! wish you the best :)

• Philippines
20 Sep 10
when you love someone, our judgment is overcrowded by the emotions, by the feelings that we have for them and we tend to neglect and not see the bad things. Just make sure you fall in love with the person you are with in front of you, not fall in love with the person you think he can be... you won't be able to change him, for sure.. the change has to come from himself and not from others.

• Mexico
18 Sep 10
I have a similar feeling, but with my best friend. He's been avoiding me lately, doesn't call anymore, and we used to be very close but not anymore. When i talk to him, it makes me feel better. Otherwise, i feel miserable. But i think we shouldn't really care about what anything else says, just what we feel.

• Philippines
23 Sep 10
Hmmm... It's something I want to hear, but I don't know if it's something I need to hear. You see, I do understand that we should listen to our self or our heart, but there are times when I feel I cannot trust myself in emotions. Perhaps sometimes, we need to understand that opinions of other people - most especially those who care for you.

• United States
18 Sep 10
It is hard for me to tell you whether this is right or wrong for you as I cannot judge a person especially when you say it made you happy. So your being happy cannot make it a wrong, enjoy it while you can. Just know that if the happiness comes with a weight of unhappiness then it is is time to let it go. Good luck to you.

• United States
19 Sep 10
Oh, Laydee! That's so sad! If people who share a relationship can't be right up-front with each other, there's not really a relationship there. I hope you can get things going in the direction you want!

• United States
18 Sep 10
Hi we shouldn't base a relationship on our feelings only. your ex proved not to be loyal to you. this isn't the right person for you. you deserve better than this. if i were you, i would find someone who really loved me and was completely loyal to me. the best to you.

• Philippines
18 Sep 10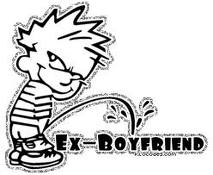 Hello Laydee, maybe you don't have to show that you still have feelings for him. or react something that is painful, you know just let him know that you're ok and you're over him. but if that doesn't help i guess it's best try not to talk to him. because it might remind you of the past again. Well, DUH, it's easy said than done.and because WE are not in your situation, it's your heart that decides. but advices are helpful. i hope you make a right decision.


• United States
18 Sep 10
Dealing with exes are tricky. The most important thing is your feelings though. What I mean by that is you shouldnt feel bad after making any decisions. So if its going to cause you grief let it go and think hard and clearly if the roles were reversed would he make himself upset or uncomfortable for you? Try not to look for temporary satisfaction from him. I've been in ur situation feeling the highs and jus one thing said between us could change everything. My suggestion is to cut your loses. A friend doesnt mistreat, a friend wouldnt make you cry, feel sad or cause you any type of grief and I can only assume that this was done to you by him thats y ur no longer together. If your an emotionally person like alot of us woman are you will feel good while talking to him but will be thinking is it realy worth and if you have to think twice it almost never is. Altimately its ur decision but if u end it now u can start the healing process and open ur self up to a better man.