Puerto-Princesa Subterranean River at Top Poll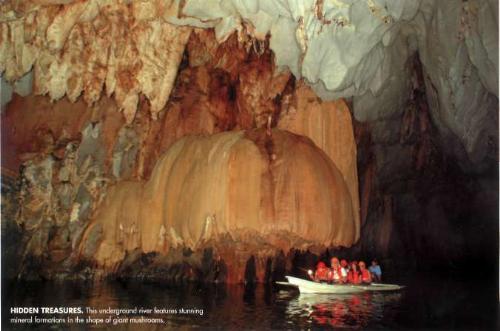 Philippines
September 20, 2010 7:37am CST
The Puerto Princesa Subterranean River is now on the top poll lists of The New Seven Wonder of the world. Puerto Princesa Subterranean River National Park features a limestone karst mountain landscape with an 8.2 km. navigable underground river. A distinguishing feature of the river is that it winds through a cave before flowing directly into the South China Sea. It includes major formations of stalactites and stalagmites,and several large chambers.The lower portion of the river is subject to tidal influences. The underground river is reputed to be the world's longest.
7 responses

• Philippines
22 Sep 10
I do hope it became officially included in the top 7 wonders of the world. It is one-of-a-kind and a beautiful natural place we can be proud of. This could help revive our tourism industry, but there should also be safeguards to make sure it wont get polluted or ruined by undisciplined tourists or commercialization.

• Philippines
23 Sep 10
yeah this place was a gorgeous one count your vote for this new seven wonders of the world

• Philippines
21 Sep 10
Been there and loved it~ (Loved it soooooooo much) I voted 24/7 for this one, and for those who would like to vote, just go here: http://www.new7wonders.com/en/ Correct me if i'm wrong, but as far as I know, the Puerto-Princesa Subterranean River WAS ALREADY included as one of the seven wonders of the world. I remember when I was in my first year of highschool, (i'm already 3rd-year highschool) my teacher in Eco-science gave this to us as an assignment. Our assignment is to vote for PPS River and as a proof that we did vote, we need to take a screencap and pass it to out teacher. But anyways, going back to the topic, for those who want to visit Puerto Princesa, immediately ask your tourist guide to bring you to this underground river!!

• Philippines
22 Sep 10
I wonder if it is been included on the recent polls of seven wonder of the world. as far as i know it just being only nominated

• Philippines
21 Sep 10
I am fortunate to have seen this world renown treasure. The landscape going to the subterranean river is equally breathtaking. Though we were only allowed to navigate roughly 1.5 km, still it was quite a unique experience and an educational one I must add. There are local boatmen who will act as your tourist guide and will give you facts and share some jokes regarding the subterranean river. It is indeed a must see sight.

• Philippines
21 Sep 10
Hey your so lucky that you have been seen this captivating place

• Philippines
21 Sep 10
The place is really beautiful but it is still a surprise to see it on top of the New Wonders of the World list. Admit it, we Filipino's tend to "over commercialize" our scenic places which often results to damaging this places. I hope the government as the people surrounding this beautiful place will work hand in hand to protect and preserve this natural beauty.


• Philippines
21 Sep 10
It deserves this spot. When I went there a few years ago, it was one of those experiences that affirms God's presence. Truly the cave shows that God is an artist. I was in awe as we floated by formations of vegetables and even an altar in the entire length of the cave. That cave is God's canvass.

• Philippines
20 Sep 10
dear turing, it is one place Filipinos love to show the tourists and the locals as well. i am sure it will be voted on as one the new seven wonders of the world.. one place where tourism will thrive and Filipinos are proud of.

have a nice day. ann