You have just earned a Mylot Reward! do you?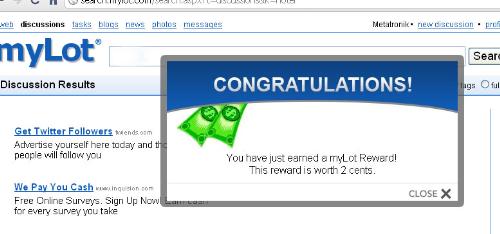 Pasay, Philippines
September 21, 2010 12:29am CST
I am actually flattered of having this announcement even the fact that it is just small amount. But then I am actually wondering of how come we are receiving this Mylot Reward? Of course I want to know their basis for giving us the reward. Could anyone please explain it to me?
3 responses

• Philippines
21 Sep 10
By using myLot search you will received a reward. Instead of other search engines use myLot search so that you will received reward. I have just earned a myLot reward that's why I always used myLot search.

• Pasay, Philippines
28 Sep 10

At least I've learned that I should do that as my habit when I want to search something.

• India
21 Sep 10
its faith that Mylot has in its user and contributors, keep the work going on an on n on........

• Pasay, Philippines
28 Sep 10

Not really others told me already that it is about search engine

• Philippines
21 Sep 10
I just did too! I just received a Mylot Reward awhile ago. Base on what I've read, it is usually given when you use the search engine here in Mylot. Just don't use it often because the admin also gives you notification. I usually use it, before I make a post to check if there are similar topics already posted. Congratulations to us!

• Pasay, Philippines
28 Sep 10
What kind of notification that will give it to us? Because as far as I remember sometimes they have warning like I abuse something.