what do you think of dreads...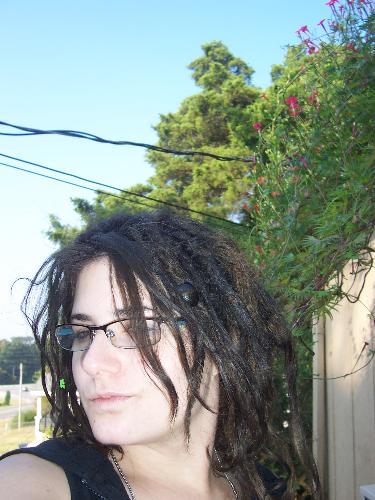 United States
September 21, 2010 10:13am CST
hi everyone, Okay, I like dreadlocks and have recently decided to make my own. I get some weird looks sometimes but most people like them. I always mention that they are new and new dreads dont look so great... It takes a while for them to look like dreads instead of nappy hair, but its worth it for me. So what do you think about them. Would you go though months of nappy looking hair to have them, do you think anyone should? heres a pic of me with my young dreads...
4 responses

• United States
21 Sep 10
I've never had dreads. THough I did see a lady with them the other day in the grocery store that had her hair situated where it was absolutly awsome looking! Like a dark pink in color & pinned up just so it looked like any other hair style but with dreads. All I can say is to each their own on what they prefer to do with their hair. Sometimes people try so hard it turns into a train wreck and others look beautiful w/o any effort.

• United States
21 Sep 10
I couldn't have dreads in my hair. I couldn't stand not washing my hair for however long. I can't go more than a day or 2 without washing it. It makes your hair stink and I am white so I don't think it would look good on me anyways. I like the way they look on certain people but I don't think they look good on everyone no matter what race you are.

• United States
21 Sep 10
I wash my dreads often, every couple days or so. It is not true that you are not soppuse to wash, dirt and oil actually make it harder for the dreads to lock up.

•
21 Sep 10
I've always admired dreadlocks. It takes courage and it must be freeing in a way. I think they look so cute on girls. I never had the guts to do it myself though. I didn't want to have to cut all my hair off when I decided I'd had enough of them.

• Ipswich, England
23 Nov 10
Hi there Leiah, I do like them, as mentioned on the picture comment, they look great on you and be sure that the look i would give you would mean that i'm interested not weird or something like that. I figure not after 3 months they look even better ?