Is Kashmir going to be in better state with Pakistan. I

India
September 22, 2010 12:11pm CST
Is Kashmir going to be in better state with Pakistan. I don't think so. They are not a pure democracy. They are short in money to develop. And they have already occupied a land of Kashmir which is very much backward. They are looking for china help for every bigger project. So I think the states should be maintained as it is. Which could maintain the peace in the area.
5 responses

• India
22 Sep 10
Pakistan always looks for an oppurtunity to disturb the peace in our country.I think government has got some new strategy and plans to implement.Hope they will implement it correctly.But there is very less possibility of kashmir getting into a peace state.People of Kashmir are getting provoked by some external means.I dont't want to name those who are behind the game.But you can clearly observe a teenager throwing stone on the cops.This matter is really very critical.I think Pakistan cannot be good enough country to bring some satisfactory results in Kashmir because of their own financial condition and economy.Government have to really take some healthy desicion in favour of kashmir.Otherwise every now and then we will see violence.

• Srinagar, India
16 Jul 13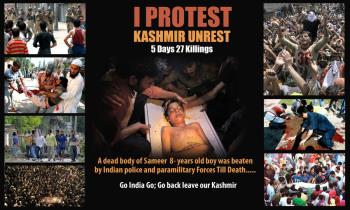 Hi Saurav and Anurag, I dont understand why people write their own minds without knowing the realities, and mislead the rest of the readers group. Please guys be mature, I also respect my country, but that doesnt mean we will hide its mistakes. Most of the people living in our country live on Pakistan Hysteria. Guys leave Pakistan, lets talk about our country, and how it can develop and improve. Hindustan is becoming Rapistan... the alarming pace of Rapes is worisom. I have visited kashmir and Im a regular visitor for the research ( South Asia Conflict). So please come here and interact with any ordinary person like Shopkeepers, Autorikshaws,School kids, College Students, Teachers, Lawyers, Govt employee and private vendors, YOU will find one thing common in All " an immense HATE for INDIA and its illegal occupation. Guys be mature and understand to accept the realities of India as democratic loop holes. India in Kashmir is treated as Neo Hilterism, Tell me one thing: why to Kill innocent kashmiri on the name of Religion and their demands to live a diginified life. We must raise ourselves above nationalism to the extremes of Humanity. Trust me or come here to research, you will cry for seeing what Indian Army has done to Kashmiri, Army vent out Pakistans Anger on Kashmiris by killing, raping, looting. http://www.youtube.com/watch?v=YAVGu_KBy70 http://www.youtube.com/watch?v=kaG0ozegNqo http://www.youtube.com/watch?v=Fi6lLjnEpq8&list=PLDBB4E38463A3D963 Lets face the Orphans in Kashmir, and say them we are sorry dear, you have right to live and for your fathers killing and mothers rape we are sorry my dear we are sorry

• Belgium
22 Sep 10
Hello again 1anurag1 , i cann read and see that you are a person , whom kind of likes it to be involved in the political sceene , if not as an active senator or a partid member , you like to be at least informed , even though in the Media , like newspapers or televisions jurnals , you will get more desinformed then informed , there are really few of thel newspapers that will share the pure truth , and even soo once they start to discover and share some real news , the politics will not let them publish the whole story , putting and blackmailling them with the closure options. Well i cann say that i was borned in Roumania and i grew a big part of my life there , under the comunistic regim , and i cann proudly say that on the time of CEAUSESCU ( The dictator ) the peoples and citizens where living alot more better then in the Democratic Roumania , on the Comunism time , the people whom where working the State assurred them a House to live in ( not the palace but still with some improovements it was much more better then now ), they assurred them a pesion , a lifestyle , and the people whom din't liked to work , they had nothing , but Ceausescu would not let live the people whom had no home , he would not let them live on the streets , he provided shelter and on meal for them ; for the rest they could go and make a 6 - 9 months formation to find a job. So the democratiq roumania , has verry much bums , verry poor country , and now even if you work hard , you cant afford to buy a House , all thats left to do is to try and live for tommorow , people are making credits at banks to be able to pay the rent or the bills , and even soo , when they wont be able to pay the credit back , then bank will take their furniture , their car and all thats valuable , thats the reason i decided to leave my country , for a better life oportunity , and i had mooved in belgium for Five years now , and i have already bought a home , and a cofeeshop , i work at the cofeeshop with my mom , and this allowed me to buy a car , payback the credit for the bank , pay the bills , and from time to time , i get to buy a new computer , but the truth it is that in this five years i had never once gone back to roumania , and i had only take three vancacy , two times went to marseille and once to amsterdam. Well this would be about all for now. I wish you peace time and a great day. Florin

• India
22 Sep 10
I think now Pakistan play a dirty game with India. And also seek for Chinese help. Because I think Pakistan has no ability to occupied whole Kashmir alone without anybody's help. So now he wants to help of China. And now China sees their profit from both Pakistan and India. Because India and China both are developing countries and also its obvious there are some competition between both of them of success. And also some land issue between both countries. So now China also sees their profit in help of Pakistan.


• Philippines
22 Sep 10
Yes. I also don't think so. Kashmir is a good guy. Why do that to a good guy. They're so mean.