how can you get through a day at work when you're feeling lazy?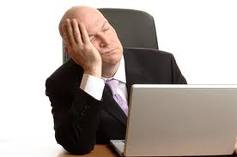 Philippines
September 22, 2010 12:39pm CST
I would admit that i'm not always that enthusiastic going to work even if it's my passion. There are certain days when i just don't want to stand up from bed and go to work because i just feel super lazy. If you get this kind of feeling, how do you actually make it through a long work day when you feel so much lazy?
5 responses

• Poland
22 Sep 10
When I used to work in an office I often felt tired and lazy at work. I found sitting close to a window so I could feel some fresh air often helped. I used to drink a couple of cups of coffee every day as well. I didn't like getting out of bed and going to work either, but I liked having somewhere to live and plenty of food - if I didn't go to work nobody else was going to pay my rent or buy my groceries, so I made myself go!

• United States
22 Sep 10
Oh my, to be honest I don't work and I already feel lazy. I hate the feeling but have to admit to it. When I was at work I just tried to stick to what I was doing and get into a groove so that I wouldn't feel so lazy, I think part of laziness at work is boredom as well, so if we can find a unique way to pass the time and get our work done, it's much better. I wish you the best of success at work!

• United States
22 Sep 10
I have my lazy days and moments and no matter how much coffee and or fresh air I take I still have to dig deep inside to find the strength. I suppose if I did not dig deep I would not earn so this in itself causes me to continue muddling through the ill feelings. However I am not superwoman, although I try to be, so if I slack off a bit, the next day I come in stronger and try to compensate the loss time the day before.

• India
22 Sep 10
Yes, this is true until I wont stand up from the bed I feel lazy and feel sleepy too...but the moment all work load moves around my mind I feel like I have now no other option rather than to do that ..but I know once I get up ...I wont feel any tiredness or laziness.

• United States
22 Sep 10

When you feel lazy at work you definitely need somethinging to motivate you before you no longer have a job. You have to find something that will give you a push in the right direction.