Cucumber Cleaner?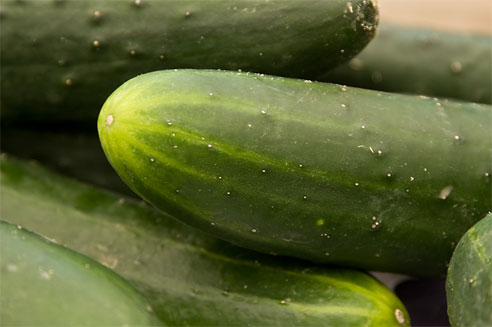 Canada
September 23, 2010 1:22pm CST
We all know that our veggies are good for us, right? And I always loved cucumbers, they are the ideal food for dieters. They are low in calories and high in nutrition. Cumbers contain most of the vitamins you need every day!They contain vitamins B1, B2, B3, B5, B6, Folic Acid, Vitamin C, Iron, Magnesium, Calcium,Phosphorus, Potassium and Zinc. Cucumbers have a variety of uses; But did you know that cucumbers have cleaning powers too? Here are some ways you can use cucumbers to clean: -Rub a cucumber slice along the mirror in your bathroom, it will eliminate the fog and provide a soothing, spa-like fragrance. -Rub a freshly cut cucumber over a shoe,its chemicals will provide a quick and durable shine that not only looks great but also repels water. -Take a cucumber slice and rub it along a squeaky hinge and voila, the squeak is gone! -Looking for a 'green' way to clean your faucets,sinks or stainless steel? Take a slice of cucumber and rub it on the surface you want to clean, not only will it remove years of tarnish and bring back the shine, but is won't leave streaks and won't harm you fingers or fingernails while you clean. -Using a pen and made a mistake? Take the outside of the cucumber and slowly use it to erase the pen writing, also works great on crayons and markers that the kids have used to decorate the walls!! I did not realize that cucumber had so many uses and that they could be used for cleaning. Do you know of any other foods that can be used like this?
4 responses

• United States
23 Sep 10
I didn't know about any of these uses. This tip isn't cleaning related but I like to use cucumber the way that people like to use lemon in a glass of water. Fill a glass up with ice, top it with a slice of cucumber and pour water over it. The I put it in the fridge for about 5 minutes to get it icy cold. You will never taste water that is as refreshing as this one is.

• Canada
23 Sep 10
Wow, I didn't know that! I'll have to try that one it even sounds refreshing. Thanks! :)

• United States
23 Sep 10
Hey great stuff! I didn't know a lot of that. I always wondered why my wife cuts the end off a cucumber, then rubs it against the other cut end. Slowly, a white, thick liquid appears. It is supposed to tell if the cucumber is fresh or not, but I don't know how! Neither does my wife but the ritual is always performed.

• Canada
23 Sep 10
LOL, isn't that strange. My father has always done the same thing but cuts off one ends and rubs it against the cucumber where he cut it. I have asked him several times why he does that. He always responds the same way, he claims that if you cut the end off and rub the cucumber with the piece, it ensures that the cucumber will not be bitter. I have no idea if this is true or not, as dad always had a sly grin on his face when he'd do that and was always joking about one thing or another, but I never remember those cucumbers being bitter, lol.

• United States
23 Sep 10
So that's why there is cucumber in my Dove soap.I love the smell, so natural and clean smelling. Thanks for all the cucumber tips.

• Canada
23 Sep 10
Yes, did you know too that cucumber is very good for the skin and will reduce the look of cellulite and wrinkles? You just rub it on the area, cucumber has very many good uses.

• Philippines
25 Sep 10
I love the Dove cucumber too! It has a really refreshing, clean and mild scent. Thanks a lot for the informations in here. I could use all of these. :) And more thanks to Wordjunkie for the tips about the benefits of using cucumber to our skin.

• United States
23 Sep 10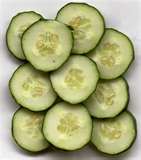 Wow this is great!! I did not know any of this so I appreciate all this helpful tips as many times I cut up cucumber and unless I eat the entire batch it will go to waste in our home. So now I know what to do with the left-overs Thanks so much!!

• Canada
23 Sep 10
Yep, no need to waste any of this vesitile veggie! Can also save some money on expensive cleaner and easier on the environment.