Any ideas for christmas Craft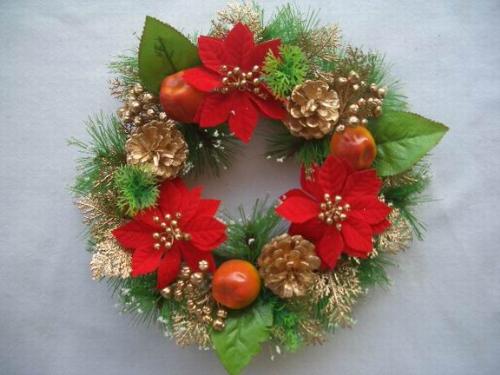 Canada
September 27, 2010 8:12am CST
I love making Christmas crafts and have done so for many Christmas's. I would like to make something new this year and I would really like to make them and sell them at a Christmas bazare. Has anyone ever done this sucessfully. If so, could you give me some tips what sells best? I was thinking of making stocking stuffers, tree ornaments and maybe decorations and/or stockings. Does anyone have any ideas for what to make, patterns and/or directions or know some good free christmas craft sites?
6 responses

• United States
28 Sep 10
I have made angels in the past. Only problem is they are so time consuming to make. They are table toppers. Will try to post a photo here and you can see all the detailed work that had to be done. They are made with plastic canvas, yarn, beads and a doll head. I didn't try to sell any at craft fairs since I don't do many of them. I used them for gifts for special, personal dinner invitations during the holidays. Made them so long ago I can't remember where I got the pattern.


• United States
2 Oct 10
I have made purses for the last craft sale I did and I am going to try to do a few for the Christmas craft show. They are made from placemats...so I hope some of the Christmas placemats come out soon and I can make some holiday ones. All you do is sew up the sides and across the bottom and add a handle!

• Canada
2 Oct 10
Hey, what a uniqe idea. The christmas placemats wold make nice christmas bags! Thanks for the tips.


• Canada
29 Sep 10
Thank you, I had not thought of going to the library. I will try that. Thanks for the ideas as well, I have made my own gift tags before but never thought of selling them.

• United States
29 Sep 10
I will be selling bath salts, soap, dough ornaments and mosaic glass ornament balls. I am trying to find out if any site will let you sell homemade candies. I was thinking about making pamper kits with salts, soap and little chocolate candies. I never sold things personally, but I think that ornaments will sell well. People like to buy homemade gifts and ornaments are so expensive when you buy them in stores. If you need recipes please let me know. PM and I will give them to you.

• Canada
29 Sep 10
What a great idea! I hope that works for you. Have you thought of creating a virtual store, all you need is a website that has the ablity to add widgets so you can add the necessary buttons for Pay Pal and such. I know some that have made a store front with their Facebook account, they create a fan page or event page that they can send to their Facebook friends, but it has its limitations, but if you are only hoping to sell to family and friends it could work for you. Thanks, and Good Luck!

• United States
27 Sep 10
I have no experience with selling crafts, but I do make crafts for personal use and sometimes for gifts. One idea that might be a bit more unique from other items being sold could be Christmas themed memory boards. I make memory boards for babyshower gifts and they are always a huge hit and they're so easy to make. There are many ways to make them and you can search online for different ways. I've seen them with canvas and things like that, but I make them using styrofoam board as my base (other items needed: quilt batting, fabric, ribbon, buttons. thread & a stapler...one foam board makes 2 memory boards). I made some last year for christmas gifts and I used christmasy colored fabric, ribbon and buttons. They are great for the holidays because they give people a nice way to showcase the greeting cards they receive during the holiday season.

• Canada
27 Sep 10
Thank you for responding. That is a great idea for a craft. I too may make these as gifts even if I decide not to sell anything at the bazare, I know some ladies who I think you would like these very much. I am just toying with the idea of making a little money on the side from my crafts, but not sure it will be worth my time, as I would have to make a little more than what I pay for materials, unless I can get the materials at a very good price.

• United States
27 Sep 10
I know thriftyfun.com can offer you tons of help. This is one of my favorite sites. I don't know anything about making Christmas stuff. Just my bags lol.

• Canada
27 Sep 10
Hey thanks giftandbags, that is a really good website. :)