Grrrrr smokers!!!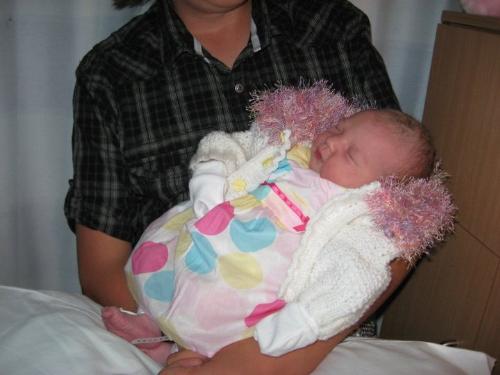 September 28, 2010 10:02am CST
I know I don't smoke but I still wish people were a little more considerate when they do. My daughter and her husband have come visiting with their one week old daughter, as they pushed their pram around a corner a man threw his cigarette he was finished with, in a second it landed in the pram. It actually burnt a hole in the collar of the jacket she had on. It was one that I had made that had a thick fluffy collar (picture included of the jacket in question!, had she not had such a thick collar on she could have been badly burned! Thankfully it was only her jacket that was ruined - my daught screamed so hard at the man but he just ran off. If people can't dispose of their cigarettes sensibly then that is another place they should be banned.
7 responses

• United States
28 Sep 10
I agree with you oldchem that so many smokers are inconsiderate as to how they dispose and or smoke near others. Although I am a smoker, trying really hard to quit, I am very conscious about when, where and how I smoke. I never do it in public and or expose anyone to my second hand smoke. If ever I have smoked and am going to approach anyone I immediately wash my hands and spray a touch of perfume and I kid you not that when and if people discover that I am a smoker they are instantly fooled as I am one to wash my hair daily. Although I am a smoker I am very conscious about the stench and I wish other smokers were as considerate as well.

• United States
29 Sep 10
I have had that happen to my son when he was first born. But unfortunately it was the middle if the summer and he didn't have a jacket on. it just burned him. My husband at the time chased the guy down. He was just going to run away. I guess he was in shock and he didn;t know what else to do other than run. We'll he didn't get away with it.I called the police. They had him arrested. When people do stuff like that you have to do something about it. No one should be getting away with something like that. Next time, dont let them run

•
29 Sep 10
My husband and I weren't with them at the time or else there's no way I would let him have gone. My daughter has contacted to police to see if she can get the coach firm off the CCTV as he was a driver on it. I didn't know this at the time or else I would have taken the name off the coach.

• United States
28 Sep 10
Our county has a smoking ban so far in front of buildings and more smoking bans going into effect but noone pays any attention to them. I am not even sure that ehy are enforced. Signs are up saying NO SMOKING and people are standing in front of them smoking. Many businesses are now smoke free too. There is more enforcement there as the business owners have to enforce it. Hopefully, the man learned to be more careful after the 'scare' even if he did run off. I remember back when my kids were little we went to a 4th of July fireworks show and we were sitting in the car waiting for the show to start with the windows down. Someone threw a sparkler and it came straight at our window! I was holding our baby! THANK GOD it hit the side of my door and didn't come through the window and on her. I couldn't put the window up, we had power windows and the car was off and to put it up the car had to be running! I have been very very careful of going to firework shows after that, to the point that we barely went, or at least never in a large crowd. WE always went and parked on a hill far away but so we could still see.

• United States
28 Sep 10
It was terrifying when I was sitting in the car and seen that sparkler coming at us. Yes it should all be banned, but sure don't know how they would ever enforce it. Glad it was only the coat burned, of course, he does owe you a new coat but that won't happen since he ran away.

• United States
28 Sep 10
I walked into a cab stand one day to see about hiring on. The dispatcher was sitting there chain smoking with NO SMOKING signs all around in the room. I asked him about it and he came back with "we're exempt". I told him "you shouldn't have the NO SMOKING signs then!" Needless to say, I did not hire on with that company.





• Pamplona, Spain
28 Sep 10
Hiya chem, Just seen the Photo what a lovely outfit too that Collar seemed to have saved her from being hurt yes. No one here is allowed to smoke where Children are around any more. They still do it but it´s just a question of time before the new Law kicks in so to speak. Maybe they will learn to be more considerate too.



• United States
10 Nov 10
I get upset at my husband over such things all the time. He's not supposed to smoke in the house, yet I find butts in the toilet when I get home from work. He puts his butts in my front flower bed when he's done and I certainly don't appreciate it either! I tell him he needs to sit at my flowerbed in spring and pick all them out before I plant it again. I'm glad your Grand Daughter is ok. Better that the collar was ruined than her skin burned. But still lack of common sense and courtesy tward others can cause greater harm than people seem to believe.

• Philippines
29 Sep 10
Man, I hate people who smokes in public places. I think their brain if affected with smoke because they can't think rationally. I don't care if other people can inhaled there smoke which is twice as dangerous the smoke they are inhaling. I wish there will be a law in the world, that only a private or designated place where in people can smoke and you when you smoke in a public place you will be jailed for a year. I will they'll make such a law.

• Philippines
29 Sep 10
I understand what you feel and I feel the same way to inconsiderate smokers too! Well, as we all know that smoking is bad for the health - - they should be at least respect those people around them. It is rude and unrespectful to puff their smoke around people especially if a baby or a child is around. Passive smoking has worst damage you know. Smoking is addictive. It causes cancer. t destroys your looks and it does not make you cool, it makes you old. It is an allergen to some and causes respiratory disease if allergic. The bad outweighs the good and you are just killing yourself slowly while you are still alive. Smokers does know these things, they are just ignoring these.

• Philippines
29 Sep 10
They should be banned from smoking beyond their own home. I hate inconsiderate smokers who spread their smoke to innocent folks around and dispose their litter anywhere they want. I believe it should be considered a crime to smoke around innocent people. Why? Because they are in a way killing them with their second hand smoke!