Do you write pages and pages in your exam?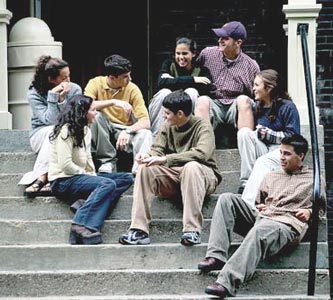 India
September 28, 2010 11:39am CST
I hope i brought back your young school and college days back. I am sure i had some crazy friends who do that. Write chemistry, physics and match all in one exam. The staff used to get completely confused but still they pass somehow. We used to fight for marks when the papers are corrected and given so that we can show our dad and mom better marks. I am sure you all would have done that too. I dont have a habit of writing a lot in exam. I keep it simple and point wise. My dad always use to say, your paper is the easiest paper to correct and give more marks. He was a professor by the way and was very strict in studies. He is my biggest motivator and I am here in a good position because of him only. Share your thoughts on the same.
5 responses

• India
28 Sep 10
Well,till my 12th class, I use to write only relevant stuff which was related to question and got good percentage in the Board Exams. But when i joined Engineering, my habit of writing only relevant stuff proved bad for my grades. As my friends use to write meaningless pages for a single answer and they were given good marks while i write what was expected to be written and i was given less marks. So, i too develop a habit of writing pages for a single answer and the examiner didn't even check what i've written. They just check few important keywords and the handwriting and proper spacing between the paragraphs. They followed a simple rule,"If you write more,you will get more". So, i developed this habit and my grades are improving a lot.


• United Arab Emirates
28 Sep 10
Yes i used to write a lot of pages as i had huge handwriting like cursive and had a lot of space between words. As a kid we were asked to leave 1 finger space between words...hehehe.... Lucky for you as your dad was a professor. I guess you had a lot of learning from him.

• India
29 Sep 10
He used to beat me if i do mistakes. But once he sees me cry, after completing the home work and stuff, he will take me to a shop and buy my favorite chocolate. He will play cricket with me till college. I am proud to say he is my dad and I want to prove his word.

• United States
28 Sep 10
Yes, that is all I ever do. I write so many pages it's ridiculous. Now, on the GWT (Graduation Writing Test), I only wrote the amount and the pages that I was told to write, no more, no less. It worked, because I passed with a 10 and highest score you could get was a 12, any lower than 7, and you had to take the exam over again. Thing is, it's not about how much you write, it's about what your write.

• Japan
29 Sep 10
I prefer not to write too much in an exam. Depending on the teacher, they might like that or not -my high school teachers hated that-, but I don't see the meaning on writting more than what you have been asked. A short but direct answer is always the easiest one to understand, but to walk in circles talking about things related but not answering the question sounds a little dumb to me. Unfortunately my teachers ddn't think that


• India
29 Sep 10
Yes I write many pages in my exams. Because I always give any answers to very brief. And I always like to give answers in details. So I like to write many pages in my exams. But in competitive exams I write only sufficient matter because I know there is will be worth to write more and more.