will i ever really be able to afford to get pregnant?

United States
November 17, 2006 9:57pm CST
i mean there's no way i'll be able to save any extra money any time soon but i want to have a baby. my bf says we can't afford it. what do you think?
8 responses

• United States
18 Nov 06
If you wait until you can afford to have children you never will. I am a stay at home mom of three and to go from two incomes to one and have children as well I did not think we could do it but we always make it work. The kids have nice clothes and never go hungry.

• United States
18 Nov 06
that's great :) thanks for the response. i have a friend who has always been a stay-at-home mom and they have five kids and just built a house and do absolutly fine and i know that her husband doesn't make that much money, they just make due i guess. :)

• United States
18 Nov 06
I have never taken birth control and my husband and I have never really tried to prevent anything from happening because we feel that if it is meant for us to have babies then we will and if not then we won't. I also feel that you will never be handed more than you can handle. I hope you and your bf have much luck in whatever you decide!


•
18 Nov 06
Hi The comments by: dotcommomof3 and macdommom just about say it all!! If you wait until you CAN afford kids you will NEVER have any!!! Just about the most expensive things on the Planet!!! Then your kids have kids and it gets even MORE expensive !!!! Christmas toys cost us a FORTUNE!!! But............. They are worth it!!!!!!!! Go with your heart and have one when you want one!

• United States
18 Nov 06
well. unless your rich you can never really say you have enough money to have a child. you should think if you yourself and your bf are ready to have a child. there are always government programs to help you at the beginng. and also friends and family will always help out. you just have to make sure you have a good savings and job in the first place. but good luck on having a baby...i have 2 myself and we do our best...we don't have much money either and i don't work. but because we love them, we make it work out. there will probably be a lot of things you would have to give up like going out all the time, so that would save money.


• United States
18 Nov 06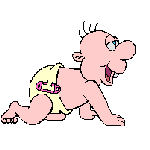 You will never be financially ready to have a baby... If you wait to have a baby until you "have more money" you will never have kids. We had our first baby 10 months after we got married - we weren't even close to having the wedding paid off!! You make do with what you have. Your love is mush more important than money will ever be.

• United States
18 Nov 06
I don't know if you can really afford to have a kid. My suggestion is to wait until you at least have a few thousand in the bank. You should also make sure that you both have health insurance. Babys are expensive. If you don't have at least $200/month that is not allocated to something and you wouldn't miss if times got tight, then you shouldn't be having a baby. There is much more than feeding and clthings child. There is loss of pay when you are away from you job (what happens if you have to go on maternity leave early?), paying for Dr & hospital bills (what happens if the baby is born ill and requires extra time in the hospital?, daycare for a baby can run up to $225/week.....personally I would not want to have to worry about all that. Wait until you are both ready and financially stable - little to no debt and not worry where money is coming from.