Have you started liking some food bcos of your friend?????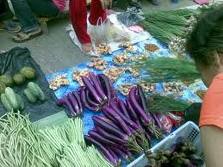 United Arab Emirates
October 1, 2010 4:13am CST
As a kid i used to hate French beans...but when i was in school my best friend used to like eating beans. And because he like it i too started eating it and started liking it. Now i dot eat brinjal. But as this is my wife;s favorite i have started eating fried brinjals.
5 responses

• Garden Grove, California
1 Oct 10
edwardjoy I think maybe all do this at times specially husbands and wives teach other new tastes for new food. I am trying to figure out just what fried brinjals are See I am here in California in the USA and I have no heard that word before brinjals./em]

I might like it too if only I knew just what it was.



• United Arab Emirates
1 Oct 10
Hi Hatley, You could try googling it.

• Philippines
2 Oct 10
Yes,it happens. My friend likes Indian foods (my friend is not an indian anyway). And,she took me to Indian restaurant. We tried different Indian foods at first,it was like "ahhhhh" got fire in my tongue (too spicy for me ewwchhht) Then,i used to eating it now and i like chicken biryani,chappati and a lot more. Have a great weekend


• Philippines
2 Oct 10
I am very picky when it comes to food but I couldn't make a Muslim neighbor stop from giving me Muslim dishes till one day I started missing the kind of taste Muslim dishes have. So when they celebrated the Harriraya, I found myself looking forward to receiving plates of dishes from them. If it were not for them, I wouldn't have learned to like Muslim dishes as some of their dishes are spicy.

• Philippines
1 Oct 10
A pleasant day to you edwardjoy2000, With reference to your main topic, I was one of those people who started liking some foods since my friend introduced those to me. This is somehow true to all, maybe because, our friends do influence us in some phases of our lifes that is why, we sometimes pay our attention to those things and giving it a try to use the thing which our friends also uses or eat those foods which our friends also ate.

• Philippines
1 Oct 10
I believe that it is natural to get to be acquainted with things that are always or frequently exposed to you and the result may be liking it or hating it. As for this situation, I, too have experienced learning to like a certain food introduced by friends and commonly eaten with them. In our place, there are many ethnic delicacies that I have grown to like because my friends have always offered me to or have always asked me to eat with.