So will you go to a halloween party this October?What's your costume?

Philippines
October 3, 2010 12:55pm CST
I am planning to go into a Halloween party here in our city in MTS.It's open field bar like a garden and there will be a costume party.I'm planning to wear Seductive Vampire and I'm excited about it!I'm sure it will be a lot of fun.So are you going?Where?What costume will you where?
5 responses

• Philippines
3 Oct 10

I don't know. I'd probably go to the cemetery. you must be in a call center, isn't it too early for the halloween


• Philippines
3 Oct 10
i guess it can be fun when you start early.

• India
3 Oct 10
Wish I could be a part of such exciting Halloween parties. Nope! Not in this year but may be in the coming year, hopefully, I'll be there to witness the haunting celebration. Do not forget to share your scary photos of that party.




• United States
3 Oct 10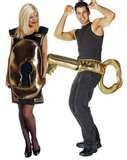 Oh gosh YES, and I am so excited. My boyfriend is an actor so the theater is hosting a huge Halloween Costume Party. Last year I dressed as a naughty Catholic school girl and dressed him as a spooky, creepy priest. I am still debating what to do this year so I am looking for ideas. So exciting!

• United Arab Emirates
3 Oct 10
I want to dress like a witch...but in this part of the world they dont celebrate halloween...