Cashemailsclub is a legitimate website and received my payment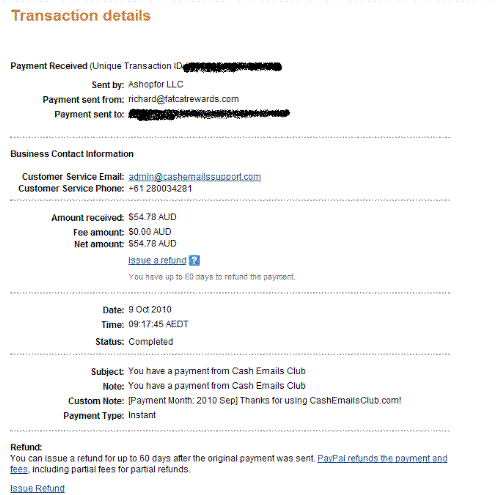 Australia
October 10, 2010 7:45pm CST
guys Cashemailsclub is a legitimate website and got my payment from them last week. I've attached the paypal payment details.
3 responses

• Australia
13 Oct 10
I too have received payment, but it was different to what was APPROVED on my account. When logging into my account it still states the amount that is approved. They have not removed it yet. I am still not sure if they are legitimate or not, as only a handful od people have received payment. I received payment after making a complaint on another SCAM watch site and included my full name and email address, so they did have a way of tracking me. My wife has not yet received her payment. If she does then it will add to their credibility. Also ask yourself. Why have the emails dropped to once a week and offers about 9 cents per email instead of 90 cents like they used to?

• Philippines
11 Oct 10
Thanks for telling us this because I like to join a site that can help me earn some extra money. I hope it is not a scam site and all my efforts will not be in vain. I'll try my luck in here.

• Australia
16 Dec 10
This place and others like it are scammers, first emails were about 95c every day then they dropped to 2 times a week, then they cancelled some of my money earned when i got close to the $50 dropping me back to about $40, now i only 1c email about 2 to 3 times a week. I guess the pay a few to promote there site in word of mouth but rip off majority

• Philippines
11 Oct 10
congratulation on your payment! its great. ill have to check this site too. and try my luck here too...Thank you for sharing.