God Bless those Chile Miners, they are seeing the Light..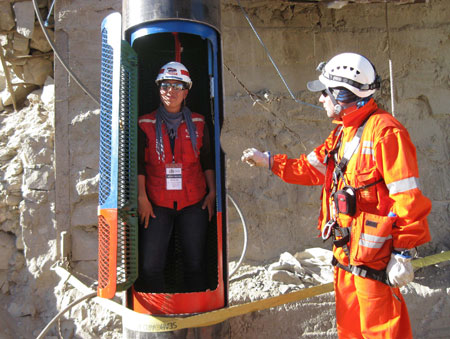 Philippines
October 13, 2010 3:32am CST

Hello Lotters,

This is one of the risk having a job who has big risk to do and that is to either dig, shovel and pick up rocks under tons of rock,meaning underground. normally mines could be done in a mountain or something. but this is really dangerous. now, the accident had made them trap for months, one of them was about to retire. if there was no such technologym, they could have died down there. There was a similar incident here in the Philippines. although the reason why the miners trap is because of the landslide and strong floods that trap them inside, they were rescued too but some died. As for the chile miners, it doesn't matter how long it takes, they are being rescued one by one.

they are blessed, they'll spend Christmas with their families after all. don't you feel happy with these news? my mom is.
10 responses

• United States
13 Oct 10
I see they have gotten the last one out this morning. It sure turned out better than I expected. I am so happy for all of them and their families. I cannot imagine being buried alive like that.

• United States
13 Oct 10
I heard wrong, sorry, they still have a bunch to go. All I had heard was the news flash and they made it sound like they had finished getting them out.

• Sao Paulo, Brazil
13 Oct 10
It is great, all my family is in front of the tv, my mom even cried when she saw the first miner coming up, It is very nice to see the the humans are trying to help others. today is a day that will come in to the history not just of the Chile history, but the history of the entire world, as the day the world enjoy together to save the live of those miners.

• United States
13 Oct 10
Yes, I am so happy! I was watching the news earlier today. I couldn't imagine being in their shoes. I am so relieved that they will be rescued.

• Philippines
13 Oct 10
dear lk, i was watching the news.

the 9th miner has come out already as per news. but all eyes were in the first miner who got out. you can see the excitement from him and it is contagious.

am very happy that they are out. ann


• Philippines
13 Oct 10
I am super glad , Knight. I even told my hubby that it is going to be a wonderful Christmas for these miners and their respective families because they will finally be out of the tunnel.Perhaps, this is going to be the best and greatest Christmas gift they will ever receive...:) Imagine staying down there for almost three months without the comforts of normal life. Even the food they ate took an hour before it could reach them... It was a difficult ordeal for both miners and their families.Those three long months of not knowing what to wait must have felt forever for them...Finally, their ordeal is over. God is good.:)

• United States
13 Oct 10
I was also relieved to open my browser and see this as the top news. There was picture of a reunion of either a girlfriend or family member that was really touching...:)

• Malaysia
13 Oct 10
God must have heard and answered their prayers thus granting them extension of life to see the sunlight again. It is a real miracle looking at the situation and the length of time they were trapped. It happened in my country a few years back where a condominium collapsed and the whole occupants were killed in that incident. Tears of joy must have flooded the streets of Chile and from their families for these unsung heroes. Praise the Lord.




• Philippines
13 Oct 10
my wife was praying while watching on tv and when the first miner came out she was clapping her hands and so is our son. she is saying Thank you Lord and was very happy for that event even she does not know this people. i too am happy that in this times in the way that technology truly made a difference. this is one of those things that you can say nothing is impossible, anything is possible just have faith.


• Australia
13 Oct 10
I watched the first three being rescued and I cried especially when the first one came up and his little boy who had been waiting all excited burst into tears as he hugged his father…It did my heart good to see these men alive and hopefully all fit and well. I agree with you LetranKnight, God bless them all and their families, I hope they get the rest out safely...

• United States
13 Oct 10
YES, this is a WONDERFUL day for those miners!!! I pray each & every one of them makes it up & out without any further problems!!!! Just think what a wonderful Christmas this will be for them as it will come fresh on the heels of a miracle & the feeling of being blessed to be alive. I would think the miners & their family will feel a GREAT closeness this year!!!!