What does your dog love to do?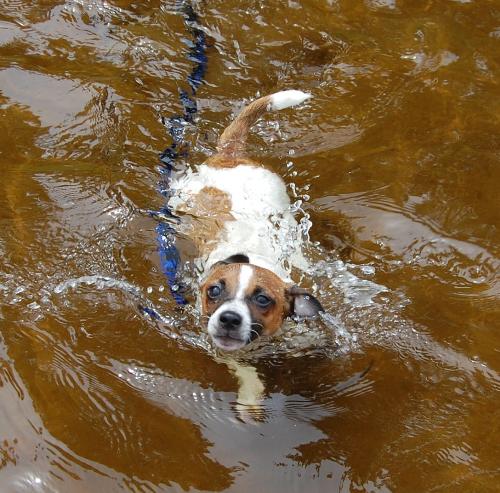 Canada
October 14, 2010 5:16am CST
Greetings! I am a crazy dog fan! i have three dogs- a pug, a chihuahua and a big rotweiller/shepherd cross and they all love to do different things. My pug loves chasing balls, car rides and running beside the bike My chihuahua loves snuggling under the blankets, kittens, swimming and running beside the bike My Rottie/shepherd loves playing with his two little friends and going for walks on the beach. What is your dogs favourite activities? Have a great day!
3 responses

• Romania
14 Oct 10
Hi imphavok, and welcome to myLot! I'm a big dog lover, too, but I can't have more than a dog at a time, as we live in a small apartment. You must be so happy having three dogs around! Let's see what does my dog likes. Hmmm... I think her favourites are (in this order): 1. food

2. food

3. food

I'm joking, of course, but she really likes food. She would do anything for food. She haven't experienced many different activities so far, as she is only ten months old (oh, today it's her aniversary, it's good to remember), but, from the ones she has tried, I think she enjoys the most playing with another dogs and running free in the woods when we go hiking.

• Canada
14 Oct 10
Oh yes! I love having 3 dogs! I would love more but sadly 3 is all the city I live in allows. LOL! My pug loves his food too! I guess I should of put that at the top of his list!! We make our guys homemade dog food and they go crazy for it. The pug literally vibrate at meal time, he is soooooo excited! Do you have dog parks where you live? Ours love going there so they can play with the other dogs! Happy 10 month anniversary!! May you have many many many years with her!

• Romania
14 Oct 10
Thank you, imphavok. Unfortunately we don't have dog parks in my town. It's a small town and the authorities would rather forbid dogs' access everywhere in town than create a dog park.

There are two large parks where I used to go with my previous dog, Nera, when she was young, but they have forbidden dogs' access in those parks for 5 years.

But we are lucky to have a lot of woods surrounding the town, and we go hiking there quite often.

• Canada
16 Oct 10
That sucks. Dog parks are great for dogs. I've never heard of a city going so far as to deny access to a park for dogs, thats horrible. How do they expect the dogs to get proper exercise? I'm lucky, I live in Canada and pretty well every city and many towns has a dog park, most of them has several. It is a great place for the dogs to get safe exercise and socialization with other dogs. I'm glad you have some nice hiking area near you! Thats great exercise for both you and your dogs! :) Have a great day!!


•
21 Oct 10
My youngest dog loves to run, I mean really love. When I get within a mile of the woods she starts barking and jumping over her mum in the back of the Land Rover. I open the window and she leaps out and is away. I drive up the rough track at 20-30mph and she runs off to the side on her own long detour, to give her further to run, whilst her mum runs behind the truck. And catching a football in mid air The older dog loves to watch telly. Both love their bellies rubbed, fighting with each other, rolling on their backs growling in ecstasy and of course eating all the best urban

•
21 Oct 10
Border Collies, little black and white wolves! all the best urban

• Philippines
16 Oct 10
i have many dogs and they all have different character. my pug loves to lay all day they. its like all day they just lay there or sit and be cute. my poodle likes to bark all the time and it annoys me some times, sh just want to play and if she gets bored she barks..

• Canada
16 Oct 10
I got a pug My pug si the exact opposite! He is go go go nonstop. I picked a pug because I thought they were fairly mellow dogs. Boy, was my research wrong! He is constantly wanting to play and never seems to tire! I get annoyed with barking too. I try very hard to enforece strict barking rules , but sometimes they simply don't listen. It gets frustrtaiing. Have a great day!!