Have you ever milked a cow ?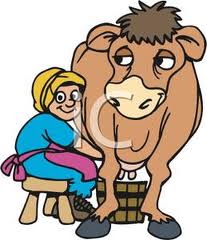 United States
October 14, 2010 8:57pm CST
i have never milked a cow before have you ? but i have watched my mom go out in the cold and milk the cows we had.. then she would go home and pour the milk into a churn and churn it into butter and we would sell the butter everyone loved the homemade butter.. and my family like the fresh cows ,milk.. she sold it too.. made a decent lil bit of spending money .. i remember well my mom going out early to milk the cows .. have you ever milked a cow ? or watched someone else do it ?
4 responses


• United States
15 Oct 10
I think I milked a cow once. I know I have milked a goat. That's actually more challenging than a cow as the cow doesn't tend to fight you as much! I had to almost ride the goat before I figured out how to get her milked! It was funny (but not then!)


• China
15 Oct 10
To milk a cow by your description is so interesting.It is so pity that I have never have this kind of experience.If I could have the chance,I would like to try. Have a good day!

• India
25 Feb 12
We had cows in our home earlier and we have one now, i purchased recently, you might have read the discussion, but to be honest i have never milked it, we have people to do it. Best of luck.

Professor