do you ever talk with parrots...???

Karachi, Pakistan
October 15, 2010 5:12am CST
hi to all well, Parrots are nice pet & good looking animals, aren't they??? anyway, you ever see or talk with Parrots??? I do once in my life, & my expeirnce is parrots won't speak clearly in human voice, but have enough to understand. what about you guys??? have a nice day.
10 responses

• India
15 Oct 10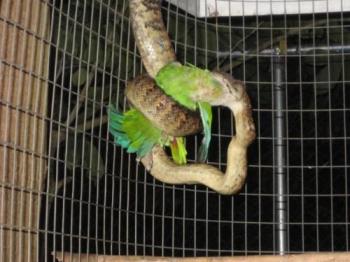 Hi dear, Yes, I had the habit, but not now, when I was a child we had a pair of parrots and my parents were so fond of all kind of animals and birds. My father used to give a special type of leaf to cut with its beak and the dried leaf was little think and lengthy in size. It was a time pass for the parrots and they enjoy cutting these leafs. But indirectly it will lighten the beak and tongue of the parrot and which help them to pronounce how we speak. With so many years of training, they used to call everybody with name and those who familiar with our names could have identify whom they were calling. If we pronounce a name repeatedly, they slowly imitate it and a daily repetition, they tell the names. Also, if they are in a mood, if we ask 'who is this", they parrot will say, Thank-s. So, it is a good time pass and nice experience I had in my childhood. I think one night, one snake entered on the top o the cage and caught both the parrots and killed. Later on my father left the habit of treating them due to his deep sorrow on the incident. When I think of these things, I feel it was happened two days before, even though the same is the memory of about 35 years and above. Regards, Thank-s

• United States
20 Oct 10
The only time I see parrots is if I'm in a pet store and I can't remember hearing any talk.

• United Kingdom
20 Oct 10
My mom got given a white fronted Amazon parrot when I was 14 years old. He lived until he was 22 years old. He was green with a red head and a white patch around his eyes. He had colorful wings and a pretty tail. They spoke in a clear voice and he said "hello Bingo". I have heard other parrots talk as well. Cockatoos, African grays and Amazon parrots can repeat words given to them if they learn to do so when they are young. Bingo was hand reared and so very friendly to people.

• India
20 Oct 10
lol parrots imitate what they hear, in our language we call parrot as mituu, it responds back as mituu, does not know what it means, it also utters names of family members that it hears.. Thanks for sharing.
Professor.
. Cheers


• India
15 Oct 10
yes parrots are good talkative birds but they don't have sense to speak..they just learn some words and when they are taught and trained to say some things at particular times ...then its the response they give to that teaching....its just training not their real brains...


• Malaysia
15 Oct 10
I don't think parrots could really "talk", but what they do is just repeat words which they were told to memorize..you know just for shows n stuff.. But it's really interesting to hear animals speak our human language, and cute at the same time, like the talking dog Mishka..

•
15 Oct 10
I ve heard of how nice parrots are as pets and good they are as talking pets.I have never seen or talk with a talking parrot.

• United States
15 Oct 10
yes there is a bird store down the street from me and i go there to talk to the birds there very smart and well trained they even have mini convos with me i love parrots

• Indonesia
15 Oct 10
Yep, I did it often because one of my best friends has a parrot. But, I did it not because I believe I could communicate with it, but rather teaching it how to mimic our dialogue. It was fun back there, especially when my friend and I tried to speak difficult words or funny one.