Do you want that piracy should be completely banned?

India
October 17, 2010 9:08am CST
For me its a big NO. I download pirated music from songs.pk and all the games I play are from Warez-bb. I will go bankrupt if I will have to pay for the stuffs that are in my PC!! It would cost more than 10k $$ ha ha but fortunately here in India more than 94% users do piracy.
6 responses

• United States
18 Oct 10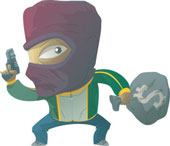 I know that it is tempting, but what you are doing is STEALING! Sure you are benefitting from downloading pirated games, music and movies. What you are doing is just making everything cost a lot more and costing other people jobs. I'm not perfect, I have taken stuff that isn't mine before. The way I look at it is if I want something and can't afford it now, I have something to look forward to getting later. I like to get myself little gifts every now and then. A new movie or CD is exciting to get and I know that by buying it, I EARNED IT! If everyone pirted/stole everything, the game makers, musicians and actors would stop producing new games, albums and movies because they couldn't make any money. How boring would it be if there wasn't any new stuff coming out anymore. That would make the economy even worse because of all the lost production, distribution, and retail jobs that are involved in getting these products to the consumers. That means even more people who can't afford a roof over their families heads or food to feed them. How would you feel if someone broke into your house and took everything that was rightfully yours? That's what you are doing to other people. MAN UP AND BE RESPONSIBLE!

• United States
18 Oct 10
I just removed you from my list of friends. I don't want anything to do with people like you. You know what they say, "What goes around, comes around". Hopefully, these things have a way of balancing themselves out.

• India
20 Oct 10
My dear flpoolbum, it is people from your country, who started this trend. I think you have forgotten Napstar, the first person who did this. If I am right he is from United States, and not from India. As I have mentioned it is very easy to preach, but practicing is difficult. We are honest in admitting that we are downloading something because we cannot afford the high costs.That is not stealing. If it is stealing, then your conutry men are our Gurus (masters).

• Cambridge, England
17 Oct 10
Should we assume, then, that 94% of Indians are criminals? Or are you just another one of your race who is giving Indians a bad name in the world? Honesty suggests that if you can't afford something, you cannot have it. Are you surprised at all that people have to charge so much for software and music when feckless, dishonest people find ways of stealing it?

• India
17 Oct 10
You cannot call downloading as a criminal act.We in India accept that we do it, whereas you westerners will not accept it.First of all internet and video piracy was invented/discovered by you westerners only. Your people looted India when they were ruling over us, and made us a poor country.Does that mean, I should call all the English people as criminals.You still have the Kohinoor Diamond, as well as the throne of Tippu Sultan in your Museum. Why is your government refusing to give it back, so can I call the English people as criminals. It is very easy to preach, and give advice.

• India
18 Oct 10
Its not that Indians do not intend to pay for the stuffs they are downloading, the thing is that the supervisions to stop piracy in India are none and in Europe and USA the government has adopted many measures to stop the same.

• India
17 Oct 10
As you have rightly mentioned, more than 94% computer users do piracy. It is not possible to eradicate the piracy in India, reason being India is a democratic country. Of course if the music and film companies, try to bring in affordable stuff, piracy can be eradicated.

• Cambridge, England
17 Oct 10
Do NOT blame piracy on democracy. Blame it on a weak and corrupt democracy, perhaps, but do not sully the name of democracy! The basic reason for piracy is greed and lack of morals. There is NO other reason. Making things 'affordable' means nothing. People without morals would still steal if the law allows them to get away with it. Saying that 94% of computer users in India use pirated software simply says that 94% of Indian computer users are thieves. Nothing more, nothing less. People who advocate piracy in discussions like this are merely giving a bad name to Indians as a whole.


• Garden Grove, California
18 Oct 10
mukulthegreat but you realize surely you are stealing money in a way from people whose talent is their money making skills. You have no right to take their music and games that are copyrighted. I do think it should be banned as there are legitimate places on the web where you can download free music and games too.here is the US they have come down hard on pirating like that.





• Philippines
17 Oct 10
Anyway you look at it, piracy is a crime. It is stealing the rights due to the creator. The world has seen the ill effects of piracy -- it cost millions of lay-offs from people working in the music and software industries, and other products affected by piracy. A lot of creators like music composers, artists, inventors do not get the royalty compensation that they should rightfully receive. How can an industry that encourages creativity sustain when it will eventually crumble due to piracy? On the other hand, the consumers benefit so much because they get a lot of stuff for free. I think this is a wake-up call to the industries -- prices should really be affordable so as to make it a win-win situation both for the industry and its consumers.