What would have happened if Gandhiji were not born?

United States
October 21, 2010 8:55am CST
We all know Gandhiji. He is the protagonist of nonviolence. In modern world everybody bows head before him for his contribution to Indian freedom more importantly towards humanity. But had he not been born, what would have happened? Would we have remained violent, ready to spell others blood in the name of freedom fight? Could India have earned freedom without him?
3 responses

• Israel
21 Oct 10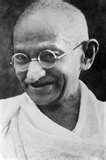 How can we say anything just on assumptions.......lets not imagine, but accept the fact that Gandhji was born and lived and is still living in our hearts.I am thankful to God that such a pure and brave soul was born in our great country. He was the only leader who followed his preaching. Not like other leaders who preach big things, but practice nothing. Gandhiji did what he said. It really takes lot of courage and will power to give up all comforts of live and roll one's self into one simple cloth just because the other people of the country were poor. He did it......and even todays young people respect him for this. He always said "simple living and high thinking should be the motto of life.......and I always agree with everything that he said and preached.. There was one and only one Gandhiji..and I doubt if ever there will be anyone like him in future.I still feel that if he would have lived longer, the situation of our independent India would be better than today. Unfortunately he could not live longer to see his independent India.

• Israel
22 Oct 10
no thesids......if he would have lived he would have guided us better.......today we are in this miserable conditions because we lack good leadership......from where to get another Gandhiji today.....one corrupt bullet from one insane man, spoilt the whole game.


• Bhubaneswar, India
22 Oct 10
Hi apsara, For a moment, let me agree with you. Now who would have been the leader of the country? Nehru of course, then? As you know Gandjiji was close to the Nehru Parivaar, Definitely the next one in the line was Indiraji. She too became the PM and the leader... so ? The Nehru Dynasty Ruled and they are ruling even now! So what difference would have that made here? I still believe that it is good that he expired and did not live long to see the blatant corruption and things he did not want to happen to India. What India needs is good leaders and for the Nation's sake, they have to come up with new concepts and to start with - kill corruption that is so deep rooted now.


• Bhubaneswar, India
22 Oct 10
Hi Jack, If you look at the history of the countries that you think are developed - you would realize that almost all of them had to fight hard for their independence. India on the other hand is still developing and it has already been 60+ yeas since Independence. Reason is simple - the theories of non-violence, peaceful protests all made us lazy and lazy and more lazy. There was no bloodshed and the importance of the loss of lives during these peaceful agitations, just did never allow us to learn the importance of freedom and Independence. Freedom would have been achieved no matter whether Gandhiji was the leader or not, History has it that the British Empire was collapsing after the WWII and sooner or later they had to quit India as it was not cost effective any more. You can brand me as a guy who hates Gandhiji but I do agree that his philosophy of non-violence was great, it is just that we never realize the things that come to us as gifts. Cheers, theSids

• Bhubaneswar, India
22 Oct 10
Hi Viji, I hate him because of other things - Hanging of Bhagat Singh, Subhash Bose and many other acts that he should have done otherwise. I also blame him for the partition and divide. But the principle of Non-Violence he preached was something great. It really takes a lot of guts to do this and I am not hypocritical. I give respect to him here - the good thing in him. If you look around, you find so many dharnas, bandhs, so many agitations - so called peaceful ones - all because of him. His theory was great indeed but was and is being put to wrong use. As an example, The Nuclear Power - gives great amounts of energy and could help us for many years, but we also use it to create N-Bombs. So there are always two sides, in this case I find Negative Side more. Hope you get my point.


• India
22 Oct 10
If gandhi was not born, the freedom fight of india wont be peaceful. Instead it would have been more violent. Also this may delay the freedom for longer. Gandhiji also played a good role during partition of india. It was he who stood strong against partitioning. If gandhi was not there india would be a smaller country and there would be many smaller countries. Also he played an important role in coordinating the indians. Otherwise at different part people would be doing their own fight which should have weaken the freedom struggle.