Do you get a free turkey for thanksgiving and Christmas?

United States
October 29, 2010 2:43pm CST
I got on the line last year for the turkeys. I got about 3 and gave one to my mother because that was where I was eating. Then the others went to my freezer and later to my mother and and my sister. But,you know this year I already was told I am getting one in my new town. I will give this one to my mother as well because I can't cook turkey. I tried once and could not eat the nasty thing. My mother soaks her turkey in a big pot with great tasting seasoning. That is a secret to her. The turkey is seasoned all the way to the bone. I can't tell you how good it tastes. My friend was on the line with me and she was on 6 other lines as well. She kept two for her and she gave one to her mother,and sold the rest. I am not standing in any lines this year at all. I froze my tail off last year and it will not happen again.
11 responses

• United States
1 Nov 10
Our family has never had to attempt to get a free turkey for Thanksgiving. We've always had food on our table for the holiday and the company that my mother works for gives them free turkeys and fixings for the holiday as well. In fact, the year before last year my mother, sister, brother and sister-in-law all worked for this company so they ended up with four turkeys at her house that were prepared throughout the year.

• United States
30 Oct 10
A few of the local grocery stores give free turkeys if you get a certain amount of points. They are very easy to accumulate so we easily get two turkeys and my parents get 2 or 3 turkeys. I always have my parents over so we end up with about 5 turkeys each Thanksgiving. I usually cook the one on the day and then cook one for my parents to take home with. The rest go in the freezer and we eat them later on or use one on Christmas.

• United States
30 Oct 10
Actually my local supermarket has not started the free turkey promotion yet, but its usually free after spending $300 or more. That is easy for me to do in just one shopping trip, so I won't have any problem with getting a free turkey. I love cooking a big thanksgiving dinner and always go through a "rehearsal" before hand to decide on the side dishes and desserts. I like to change the ingredients up every year, although its usually the same general side dishes.

• United States
30 Oct 10
I've never gotten a free turkey. Does hosting turkey day and a relative buying it to offset the costs of the meal count? My IL"s do that for some of the holidays as they know we can't always splurge on things but they will when it comes to a holiday meal. I wish they splurged on other things for the kids atleast. *sigh* I got a free ham once that was when my boss at the time
@
my last job had gotten us Virgina Smoked hams as our holiday bonus.

• China
30 Oct 10
hello friend. you are so fortunate for this. i have an idea from your subject here. and give me some advice for this. and why not mylot pay some beautiful things for our thanksgiving or christmas days ? and that will be so wondrful if mylot could do this. wow . mylot ? pls do it lol.

•
29 Oct 10
My wife insists that we have Turkey for Christmas, so I don't generally have any as I only really like Chicken. Turkey is far to dry for me, tastes like I'm eating very stringy meat all the time. I only really get Chicken when we go to my parents, as they prefer it too but they do have Turkey at times. Think this year we're planning on getting a small one, as it's only really go to be a few people eating it.

• United States
29 Oct 10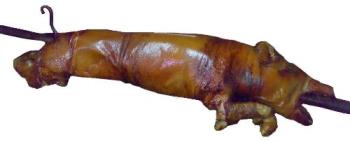 We get turkey for thanksgiving, although this year we have a situation. Where I will be away with my boyfriend during Thanksgiving. So I decided we as a family, my boyfriend and my kids would have Thanks giving one week before. This way we still enjoy my yummy cooking and turkey and although it will be hard that I won't be with my kids we can still enjoy it the week before. What do you think am I doing right. I can not change my plans as my boyfriend (the actor) has a contract in TN and he already bought my plane ticket. For Christmas though I cook a whole pork, we do not eat turkey then. It is tradition with PR to eat Pork for the Christmas and New Years. Yummy. Let me show you a picture of what it looks like but of course ours without the head.


• Puerto Rico
29 Oct 10
Thanksgiving is my favorite holiday because its all about family and great food. I'm hosting the family dinner this year but have elected certain people what to bring. However and unfortunately I will not be getting a free turkey. Every year I seem to spend more and more for my turkey. I remember when my girls were younger I would get really cheap birds because I had accumlated alot of points at Pathmark and so I would get a great discount. Living in New Mexico or now Puerto Rico nothing is cheap especially food.

• United States
29 Oct 10
We used to when we lived in our old town. A friend of the family would always pick one up and give it to us. Ever since we moved we haven't gone out to get a free turkey. The place we live in is a lot bigger then our old town so the line is longer and like you mentioned none of us wants to wait in line to get one. Usually we just get our turkey at WinCo during the holidays. They have this special where you can purchase a turkey for a few cents per pound as long as you spend more than $50 that day. That isn't a problem because we always buy all the ingredients at one time. And we typically get a smaller size turkey so it doesn't cost that much.

• United States
31 Oct 10
Well the food bank I go to gives everyone a bag of food and a frozen turkey for thanksgiving dinner. I dont eat meat and I have no idea how to cook a turkey so I usually put it in the deep freezer and let my mom cook it up for Thanksgiving dinner. My sister gets a free turkey though to and we cant possibly eat two the same day so I usually save mine for Christmas. Last time I wound up having two frozen turkeys in the freezer and not using them so I gave them away on freecycle.

• Indonesia
30 Oct 10
I'm not celebrate a crishmast because I'm mouslim.