Holidays out of season.

October 30, 2010 6:36am CST
I have just returned from two lovely weeks in Minorca, in the Balearic Islands. This is classed as their 'winter' but we are back sporting suntans and shivering in the English late October weather!! The hotel complex that we stayed in shuts this weekend so we were lucky enough to be part of a very much reduced vivitor capacity. All the facilities though were still available apart from one bar poolbeing open so we ended up neqrly having everything to ourselves, as you will be able to see from this photo from our bedroom window! A lot of places on the island were closed but there was still plenty to see and do and some FANTASTIC bargains in the shops. I would certainly visit again 'out of season' - do you prefer in or out of season for your holidays?
8 responses

• United Kingdom
3 Nov 10
I am really glad that you enjoyed your holiday to Minora for two lovely weeks in late October. I think that Southern Europe's season begins in May when bargains for that month are abound. April can be a bit chilly and flights are high in the Easter school holidays. June and September are mid season and the best times to go I think. July and August are peak season. October is low season and there is a half term then which is great for a short break of up to one week. I visited Turkey in Late December and January. It was cold and many places were shut up for the winter. Going long haul the best times are November and February which are both low season. Mid to late January is another great time. I traveled to Cape Town and the Garden Route in January 2009 and it was the summer out there but winter back home. For Canada this summer I went for Mid June until early July. Then I had the enjoyment of seeing it away for busy late July and August which is the peak time. When teaching full time in a permanent contract I can only go on a trip in the school holidays. I have had a winter in Australia during our summer holidays.

•
4 Nov 10
I have been looking to book a holiday for next year that is in school holidays but avoiding the summer holidays because of the price! I am intending taking my daughter and family but her husband is not allowed to take bank holidays off - this just leaves me April before Easter and I am really struggling for somewhere suitable in Europe!!

• United Kingdom
4 Nov 10
North Africa might be pleasant in April like Morocco, Tunisia or Egypt. Southern Europe in April wouldn't be very warm I think. It is a shame your son-in-law isn't allowed to take bank holidays off work. The May half term could be a weeks trip. Good luck choosing where to go in 2011.

•
30 Oct 10
Pleased to find that you enjoyed your holiday.

A couple of years ago we took a Spanish holiday out of season. We found nothing in the way of great bargains, but it was good not to be mobbed by our noisier Brit brethren, and we were able to take things leisurely rather than compete for space. Moreover, the weather was a little cooler which suited us well.

•
31 Oct 10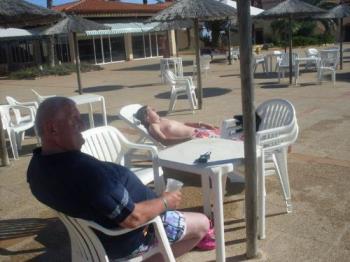 Well Menorca is never as 'Benidormy' as main land Spain and always much quieter. We have been in May usually but this last holiday there was SO much space; take a look at this picture of my sun and hubby relaxing around the pool - as you can see there was no need for towels on the sunbeds here!! I managed to get a pair of the leather sandals that Menorca are famous for making for my new granddaughter for 10 Euro - which may seem expensive for a baby's sandal but when I last bought a pair for another granddaughter 4 years ago they were 30 Euro!!

• United States
30 Oct 10
Hi! Glad to hear that you had such a nice holiday. To answer your question... I always travel in the off season. I discovered long ago how much better the service is when there are fewer people to take care of. And the workers seem nicer when not stressed. Also I love the great deals that can be had in the off season. It's the only way to go, in my opinion. What's your next destination?

• United States
31 Oct 10
There you are....WELCOME BACK. I sure have missed you, and your wonderful discussions about food and you making me so hungry...LOL!! I am glad you had a great holiday. The picture is beautiful. I love to go on vacation out of season, as I like to rest and don't want to have to be overcrowded with a lot of tourists. I am glad you had a wonderful time and manged to find great bargains (you know me with the bargains...I am jealous!!)

•
31 Oct 10
I know - what a two weeks - a bargain holiday, all inclusive with as much lovely food and drink as we wanted, great weather, loads of space AND bargains to be had!!!

Only thing is I'm now back to a cold and grey England, a ton of washing and having to do all my own cooking!!!


• India
30 Oct 10
Hi! WELCOME BACK! It is so good to have you here now.

I see that you enjoyed your holiday. Well, I would prefer to go out of season but would not mind going during season too. Either ways, it is ok with me as long as I go for a vacation.


• United States
30 Oct 10
I guess I've never really been any place out of season. Now, when my grandfather was alive and still had his shore house, my uncle and his wife would sometimes go there for a weekend. Betty would tell how she would walk on the beaches looking for sea glass. She did say that everything on the boardwalk was mostly closed, and my family went up there around the first of May one year (2002) and we saw the boardwalk only being partly open because it was basically only starting for the summer season. It was interesting, but kind of sad too. I remember I really liked walking the boardwalk the last year or two early in the morning and not having the crowds and seeing the stores all shuttered. It was interesting.

• Pamplona, Spain
6 Dec 10
Hiya chem, Menorca is a really beautiful place to visit. Glad you enjoyed it though. Pity some of the places were closed. I love to look around Shops as well as going all over the place to see what I might be missing. Tend to walk more around the Streets than be on the Beach itself or in the Pool sometimes. Just what I prefere. I love to be in the Sea itself an Hour then get out. Go and eat something in a Bar and wander around to my Hearts content. You surely will feel the difference in Climate (grin) I know I did the last time I was there. All in all glad you had a great time.