California...No umbrella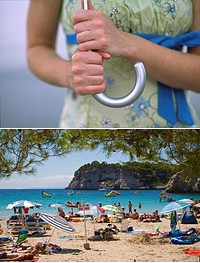 Malaysia
November 1, 2010 3:36am CST
I have got a friend, her husband was asked by the company to permanently relocated at brach office at California. She intended to go there to stay with her husband so that she can take care of her husband since her husband are alone there. Before she left to California, her husband keep reminding her that do not bring umbrella to California, he said no one are using umbrella in California. The peoples in California likes sunlight very much and no one will like to use umbrella when there is sunshine. Her husband reminded her again before she leave to California as if if she bring umbralla to California, he will divorce her...Is it that serious? Yes, he sound nearly like that. So, for mylotter who stay in California or whoever that been to California, can you tell me whether this is true that no one are using umbrella in California?
5 responses

• United States
1 Nov 10
I can tell you that this is not true at all. I've been living in California my entire life and I can tell you that people do go around with their umbrellas when it's raining out. The people here are just like anywhere else. I don't know what is up with your friend's husband, maybe he had some kind of misunderstanding or misconception or something. California isn't all nice and sunny all year round after all.

• Malaysia
1 Nov 10
I have not been to California, but I do know that the coasts line in California are quite well known and some of the beaches like Santa Barbara, Big Sur, Rodeo Beach and many more. And many people like to having sun bathing at the beach. And I guess here husband probably stay near to the beach at that is why he asked her not to bring umbrella to California.

• Garden Grove, California
2 Nov 10
rspmyl oh myGod no it is not true as when it does rain here at times 'it really pours and also for people not used to our strong sunlight it is really a good thing to use an umbrella. sure some young people never use them but Asiatic people are seen carrying umbrellas on extra hot and sunny days. what a jerk to want to divorce his wife over such a silly'idea. he has a lot of misconceptions on what we California people are really like.We are like most people we use umbrellas when it rains, who would want to get their clothes all soppy wet? that man needs to get a few new brain cells as he is missing some common sense. the Americans often come up with skin cancer because of over exposure to the sun bu all our chinese, japanese, Asiatic people here do use umbrellas to ward the sun off their skins and for good reason. statistics show that they bave far less skin cancer than Americans do.

• Malaysia
3 Nov 10
Well, that is something right about people in California doesn't like to use umbrella, since you say mostly Asiatic people are seen carrying umbrella under the hot sun. I think when it rain, everyone will use umbrella with no exception. I will let my friend know that she can still bring along umbrella to prepare for necessary moment. I think that is more acceptable when it rain.

• United States
1 Nov 10
All this fuss over an umbrella. It rains in California too! I think it's ridiculous to not have an umbrella in a household. Aren't those things used to keep us from getting wet under the rain? I'm sorry...I can't get the logic in your friend's husband's joke. If he was joking at all...

• Malaysia
1 Nov 10
I was not in California. I was at the other state Ohio. I did bring umbrella to Ohio. But I just used it once, the the umbrella was broken due to the strong wind. To divorce just because of the umbrella? Her husband must be kidding to her. I did see people was using the umbrella during the raining day at my place. If you have a rain coat, then it will be better and convenience.

• Malaysia
1 Nov 10
Ha! That might be the reason why no one are using umbrella in California due to the strong wind. Rain coat will be more convenience than an umbrella. Her husband doesn't threaten her to divorce her with the umbrella issue but she just get warn not to bring umbrella and she think he mean it so seriously and as serious as he going to divorce her if she bring umbrella along..


• India
1 Nov 10
Hi yspmyl, It is really funny to know about the demand of your friend's hubby. Why California is against umbrella? I don't know the truth anyway let me wait for other responses to know the details. Here we people are using umbrella for both season, (in summer and rainy). I really wonder what these people do without umbrella in rainy season. May be they are preferring rain coats in rainy season.