Holiday friendships.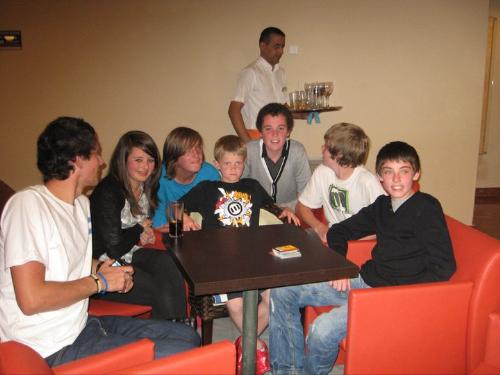 November 1, 2010 7:16am CST
We have just returned from a wonderful two week holiday in Menorca. What added to the holiday was the fact that my 14 year old son made some great friendships and spent most of his time with the little group of people who were from all over the UK (including one young lady that it broke his heart to leave AH!

) They spent the days in the sports facilities or swimming in the pool and sea and enjoyed the evenings in the hotel watching the entertainment, playing cards and pool. I always found that holiday friendships can't last, but I think that with todays technology it is far easier for the youngsters to keep in touch with each other - they are already sharing memories and photos on Facebook. Did you ever make a holiday friendship that you managed to keep going after the holiday?
7 responses


•
2 Nov 10
I am really glad that you had a lovely holiday in Menorca. It was so lovely that your 14 year old son made some holiday friendships with some people he met there. These friendships will be able to last due to teenagers using mobile phones and the Internet. They might be able to send emails. I am very keen on traveling. When I was 18 years old I traveled around Europe by train. On that trip I became friends with a German guy. We have stayed friends and he has been over to my home country a few times. I also became friends with an Australian lady on that trip. We have stayed in contact and when I was 20 years old I visited her on my trip around the world. I have made friends with others on my other trips but we haven't stayed in contact.

• United States
2 Nov 10
I think nowadays, it is very easy to stay in touch with people from other countries. Like you said we have the internet, facebook, etc. I remember I went on a cruise with my parents when I graduated 8th grade. I live in Chicago at the time, but I met a bunch of people from California. I did stay in touch with them for about 5 years, and then we ended up losing contact, however that was long before the days of the internet. Hopefully your son will be able to stay in contact with his new friends...especially the young lady ;-)

•
1 Nov 10
I've not made any holiday friendships that have lasted. I've made a few on line and then met up when they/ I were on holiday. I think that you are right to believe that with Facebook, e-mail, and sites such as myLot, it is now easier to maintain a distance friendship.


• India
1 Nov 10
Hi chem I attend seminars and workshops in my country and abroad too, there i interact with world famous scientists, and researchers, we stay in one place usully, with some i become close, the communication through emails and phone continuues.. I have friends worldwide lol.. Thank you so much.
Professor.
. Cheers God bless you.



•
2 Nov 10
I use to make a few friends on holiday when i was younger, but not anymore. I use to see some of them the next year when i went but other than that i didn't keep in contact with them as i was too young for a phone and the internet wasn't available when i was little.