Can you cook?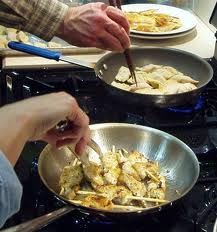 India
5 responses

• Netherlands
2 Nov 10
When I was like 15. I know a lot of boys/guys learn cooking when they're in their 20's. I don't understand that, maybe you're home alone, then what? Shove some pizza in the oven? Nothing's better than being able to cook whatever you want...

I've never understood what people find difficult in cooking. If you follow an easy recipe there's no chance something can go wrong.

• India
2 Nov 10
Ya .. you are right ... Cooking is not so difficult. You have to keep your mind concentrated and do that job interestingly. Otherwise you will feel it difficult.

•
2 Nov 10
I enjoy cooking some things and not others. My wife does most of the cooking but i do like cooking things to surprise her or to bake a cake or something every so often. I learn't to cook certain things when my mum taught at christmas when she was baking cakes and other things ready to celebrate the time of year. I learnt even more when i started working in a kitchen as an assistant because i was around them all day so i got to see how to cook more complex meals.