Mini garden, bigtime fun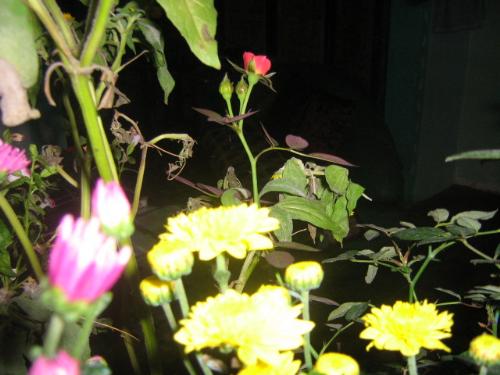 Philippines
November 5, 2010 10:34pm CST
This week i started redecorating my front yard. I bought lots of plants with flowers in bloom already and hired a handyman so i can have pots attached on walls. I put a garden table there with one chair.Covered the table with a mat with beautiful and colorful pictures of herbs on it.I put a table lamp which i turn on at nights before i go to bed. Now whenever i go near my main door to have fresh air, i get to see all the eye candies(flowers) that makes me feel relaxed. And i just realized, small though it may seem, my mini garden helps me start my day right. What is one beautiful sight you see in your mornings?
3 responses

• India
8 Nov 10
ya you are right when ever we cross like a garden with full of flowers it seems to be good and which feels us happy. in my home i have some small plants and it has yellow color flowers. this gives very pleasant mind and happiness so i feel good when i see garden and flowers. we can make time pass with this. it will kill our time we can not know the time by doing gardening and playing with pets isn't it ? so i feel happy.

• Philippines
10 Nov 10
Yes that is very true, i consider my pets and my plants as my babies.It is no joke to take care of them, as it takes times and effort too to water the plants and cut off dried branches and leaves.

• China
6 Nov 10
That really great. but for most of city member don't have space for the self garden. I also want one, most like me, I think I will plaint some flowers and vegetable and keep some small animal that may be very wonderful for the life, but some time it need to hard work in it because there will be much of grass and pests in it so I take long time to take care of my garden. especially the vegetable if i don't look after all the leaves it will go to bad and no result. but I enjoy the flesh and the health in the garden. it really very important.


• Philippines
10 Nov 10
Well i live in the city too and i tell you im all surrounded by concrete walls. So what i did was buy flower pots and those hanging thingies you put on the wall? I dont have any planted on soil but theres just no soil around but i bought lots of plants with flowers already showing up.

• United States
6 Nov 10
That sounds great i put lots of flower beds in my yard.

• Philippines
10 Nov 10
Yes its really refreshing and soothing when you see those flowers adorning your garden especially on sunny mornings and you have a ready cup of coffee on one hand.So nice to start a day like this, like starting on the right foot cause we really dont know the challenges that awaits us.