The country of Oman.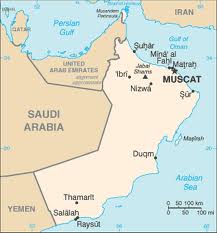 United States
November 6, 2010 3:32pm CST
I just read about Oman. Here is what I learned: Their government is a constitutional monarchy and their head of state is the sultan. The countries that border them are U.A.E., Saudi Arabia, and Yemen. Iran is across the Gulf of Oman. They follow Ibadhi Islam and their language is Arabic. In the 1500's the Portuguese conquered this country. Their economy develops on oil but their reserves are smaller than other Arabian countries. Does anyone live there? What do you know about Oman? Have you ever been there?
1 response


•
8 Nov 10
well life becomes monotonous gradually as u stay here......in the beginning u wud want to go here and there...but mayb it also depends on ppls perspectives....in terms of standard of living, its good, very clean country and also got award for the cleanest country somwher between 2004-06, dont remember exactly....