The Best James Bond Movie???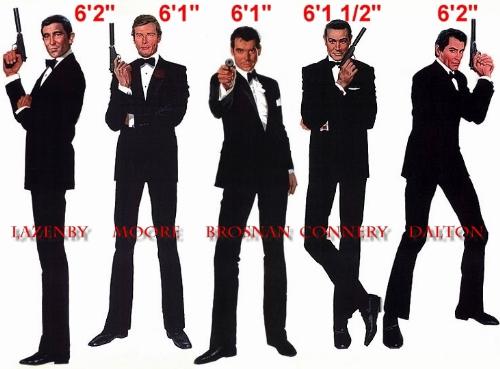 United States
November 6, 2010 3:34pm CST
I was just in a discussion about the music from movies in which the theme of the James Bond series was mentioned. Of the Brosnan Bond period, and I thought Casino Royal was true to the book, giving us the most Fleming of Bonds. What is your favorite of the James Bond Movies?
7 responses


• United States
1 Jan 11
sounds like you may be ready for the next one in the series!

• Netherlands
15 Nov 10
Like a lot of people say, I think that the only James Bond movies that were worth it were the ones starring Sean Connery. Though the most recent movies, starring Daniel Craig, are not that bad. Peachy, action packed, and a tad bit more violent than some of the Grandpa Bonds we had to experience over the years (hello, Pierce Brosnan, I am talking to you).

• United States
15 Nov 10
Connery defines Bond, without a doubt, but I enjoyed Brosnan much more than the campy Roger Moore!

• Canada
15 Nov 10
The James Bond movies are all very exciting in their unique different ways. The actings were exciting, the stories were good, and the directions were perfect. But, may be because it gave me the good impression earlier than others, my favorite is still "Dr. No". I have seen that movie 3 times, and I still feel excited every time.

• United States
15 Nov 10
I was a teen aged boy when I saw Dr. No the first time, and I loved it. Ursula Andress made a lasting impression on me!

• India
7 Nov 10
I agree with you that Casino Royale is the best James Bond movie. I like it more compared to other James Bond movies because it is more realistic. When we compare James Bond movies with other spy movies like the Bourne series, most of the old James Bond movies are too fictional. Whereas Casino Royale seems to have reinvented the James Bond brand and made it more relevant in contemporary times.

• United States
7 Nov 10
when I watch an old Bond movie now, it makes me smile to see some of the "cutting edge" technologies of those days and how antiquated they are now!


• United States
6 Nov 10
I liked From Russia, but not as much as Thunderball.

• Philippines
6 Nov 10
According to a poll, the best James Bond film is From Russia With Love. I haven't seen it yet. I like Casino Royale. Daniel Craig is a breath of fresh air. He's not the conventional Bond with those rough features. But he is really good.

• United States
6 Nov 10
I had enjoyed Brosnan so much that I was surprised how much I appreciated Graig in Casino Royale.

• United States
6 Nov 10
I have seen just about every James bond. Connery was the best...Thunderball by far one of the greatest Bond films. Roger Moore under rated but really enjoyed the Octopussy and Moonraker experience. I was extremely satisfied with Casino Royale and Daniel Craig brought the Bond franchise back to life. Hope to see a few more from him.

• United States
6 Nov 10
I am with you, it is time for another release! I was not a big Roger Moore fan, but Octopussy was better than any of his other Bond flicks.