Handwriting!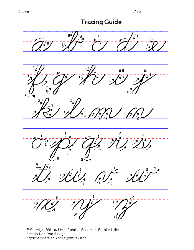 Israel
8 responses

• Malaysia
18 Nov 06
I can write both and the most I use was the semi-joint type:)....thas my best hand writing that will provide me with speed and the clear look for those who read..

• Malaysia
25 Feb 07
Hi SnIcKasS , thanks for the "Best Respond" mark!



• Palatka, Florida
9 Apr 07


• Philippines
26 Feb 07
I can use both but most of the times I go for the combined handwriting. I find it easier and way faster than the other. :)

• Philippines
25 Feb 07
From high school until my first college course, it didn't matter which one to use unless a teacher prescribes that it has to be the continuous or combined handwriting that they want to see in the test papers. When I pursued my second college course, I had to stick to the separated way of doing it, because it is a requirement that all students in engineering do that. Now, I am more accustomed to using the separated way but, I admit that it is faster to write using the continuous type.