How To Conduct A Presentation & Getting The Point Across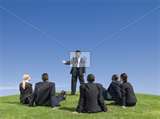 United States
November 9, 2010 1:07pm CST
So I was at this presentation today and it was suppose to last max 40 minutes. The Presenter was way too much of a listener, doer and too detailed. Many of the participants were way off subject, causing the presentation to last 2 hours. I had an objective for being there so I had no choice but to interact the entire time, although it was way too long. I suppose the presenter did not want to be rude, but how far do you go before you cut some of the tidiness and continue on with the program? How would you have handled such if you were the presenter?? Keep in mind you do not want to be rude and sell your product.
9 responses

• Australia
21 Nov 10
The presenter most certainly is in the wrong position. No amount of training will help such a weak personality. If I hear the words "presentation" and "time limit" then I'm thinking "agenda", "timetable" etc...if I had been there and that meeting went over time, putting the rest of my day's schedule at risk, I would have excused myself and left. What a total waste of time. The only conclusion to be reached is that the presenter was useless and wasted everyone's time. If it had been me, I would have delivered my presentation...that's it. If my presentation was timed precisely, I would have handouts on offer to reinforce my spiel and a contact number for any personal follow up required. I'm not sure what you mean by "cut some of the tidiness" and "you do not want to be rude and sell your product". Was the presenter supposed to be selling something? If so, how could selling the product be rude? I'm afraid I lost you there.


• United States
22 Nov 10
There is a time period between November 15 through end of December that Medicare members can sign up for supplemental insurance. After that they must wait until next year. So the idea of the presenter was to make sure the members learned all the benefits of the program he was trying to get them to sign up for. Instead he allowed the great many members to discuss their bad experiences with providers way too long in the meeting that he truly never got across what the benefits they would gain. Most members there basically were there socializing and eating all the food. So not a single person signed up and or even received the benefits they could gain from it. Not one member even signed up to get more information. I believe his strategy was to gain their trust first but did not know when to cut them off so basically if he does this in all his upcoming meetings the company will never gain anything from it. See he should have explained the program in it's entirety and then taken questions after so this way the members would not drifted off topic so many times as they did. Even I was sitting there oblivious of the program as it made it difficult later to answer some of the rating questions as how he presented certain points as he never go to them. Hope this explanation helps.

• United States
25 Dec 10
Sorry for my late response but funny myLot must be cleaning house I just received the notification of you reply of one month ago. But yes, as it turns out the presenter was being question, apparently for sometime now, after my report it turns out he was transferred to a new area, where I understand he will be getting further training.. So I suppose this will help him as it did save his job, as on flip side he could have been fired. Let's just hope it does him some good so he can remain at his job. Thanks for dropping by.


• United States
3 Jan 11
Have a general guide with where you want to go is the best thing I would think. I have given presentations. If it is given byu a team. team that gives them should have their roles properly defined. Everyone should be given what they need to talk about and the time that they need to talk about it and not go over time. Lack of planning can lead to things running way too long. Even one person needs to plan to remain on task.

• United States
3 Jan 11
Careful and organized planning is definitely the key. Unfortunately at that meeting the only thing that was carefully planned was the fruits and veggie trays.

I gave him the benefit of the doubt and I stayed there the long hours it took to complete the full evaluation. I was very objective but he proved his skills badly. He was transferred to the in office for further training. Which maybe to him was a kick but shame if he feels this way as he certainly appeared to be a very clear and concise speaker, just lacked in the key areas of the presentation. Happy New Year megamatt, I wish you a very healthy and prosperous year!

• Canada
12 Nov 10
I am no expert, but I do some presentations once in a while. I find that a good visual aid helps. Usually I would have the outline of what I wanted to say on a visual aid for everybody to see. So that if one tries to drag the discussion off topic, I bring it all back while I point and reference my outline.

• United States
12 Nov 10
This would have been so helpful for this guy to have done, I suppose he has a great deal to learn when it comes to presentations and time management. At any rate he did not rate too well with the company. It was one rating that I was no problem doing as he does have lots to learn. Whether the company is at their wits end with him, is another story.. Unfortunate for him as I understood he has been at for 15 years. You would think that his objective would be to get to the point.

• Malaysia
10 Nov 10
Do the homework,he should know his audiences needs. His past experiences should guide him as what is the Faq, feed the audiences what they want to hear. I have heard a Presenter that speaks so beautifully he keep feeding the mind that the audiences were mesmerised and not a question ask.

• United States
11 Nov 10
Apparently the company has had a lot of problems with this presenter as that is why they send me undercover so that I could bring back the full reporting. Unfortunately the company is right and hopefully he will get further trained. But from what it sounded like they are at their wits end.

• Philippines
10 Nov 10
i am not good in talking i am more on a listeners part, so since i am on the listeners part i would rather want someone who can present something in a light but funny side. when a presentor is funny and speaks clearly people tend to listen more. i would suggest that he speak of his piece first then entertain questions a soon as his explanation is finish. there are people who wants to talk at once and ask questions that bothers the whole program. there are people who can be rude and polite at the same way. i dont know how they do it but some people can really do that.

• United States
10 Nov 10
You are right he should have presented all the key points of his product. This I reported on my assignment as he had no direction in the presentation. When he started the program he should have immediately said I will have time after the presentation to allow for all types of questions. This way all the members who had all their questions answer during the presentation would not have allowed the others to be irritated. Thanks for stopping by.

• China
10 Nov 10
Hi, hardworkinggurl! I think it's not good to introduce all details in the presentation, but only the important and attractive points. Too long presentation makes people boring! It's better to tell participants detailed information through a handbook or other similar document.

• United States
10 Nov 10
Oh yes I agree too much at one time confuses people too, and I agree he should have given the members handbooks for full details and he didn't obviously he has a lot to learn, but the reason I was there was to rate him and apparently the company feels he is not doing a good job, I turned in my report and unfortunately I had to agree with his company.

• Malaysia
10 Nov 10
To win the sales, I must be patient and polite to resolve the doubt from the customers wisely. Customers are always the right. ha! ha! ha! Persuading customers to purchase is a very headache thing to me. You will lost you job just because of their compliant. Hoping you good luck.

• United States
10 Nov 10
Oh I too agree, but this presenter was there to present why these members should sign up for the plan or or switch what they already have. So way too many personal experiences were being expressed and not the matter proposed at hand. I certainly would have been patient but allowed perhaps sometime after the presentation to touch on certain questions. As if I were going to be a potential customer I did not learn anything of the benefits of this insurance. This is the reason why someone like me is sent to grade them undercover. I sat there patiently but then I am not the one who needed the insurance so they would not have gained from me. I looked at some of the members that were there to sign up for the program who left with blank gazed looks on their face and in fact several were complaining on how late it was getting. So my thinking is best to present and allow for questions later this way anyone who is interested can stay, while the others do not leave disgruntle.

• United States
9 Nov 10
This presenter needs more training. Good way to lose the crowd! Did anyone learn anything? Probably not!

• United States
10 Nov 10
I have to admit if I was shopping for the insurance I certainly did not learn a great deal, as too many stories about their personal lives took place and not really the subject at hand. Pity though as so many of the members could have used the plan, but what can we say when the presenter is not organized and did not set certain guidelines.

• Indonesia
9 Nov 10
I'm not really good at presentation as I will be very nervous talking in front of the people. So that, I read some books to improve the presentation skills last time. And I found similar case with your story today. The expert said it's necessary as the presenter to be disciplined to the audiences in a good manner, and the good presenter should have that communication ability. The example that the expert described was in a training for the senior management, and this presenter was having some interruptions in short time interval with an audience. He might have different opinions and somehow unsatisfied with the presentation topics and datas, as he's the senior manager with many experiences. But this presenter knew that he's being challenged with this audience, then for the third times he's been interrupted, the presenter said nicely that he's willing and available to continue the discussion after the end of the session and to let him continue the presentation slides for other audiences.

• United States
9 Nov 10
This presenter in my opinion started off on the wrong foot as immediately he said he was very engaging so if at any time someone had questions by all means interrupt him. Oh gosh wrong mistake as a great many of the senior went on to ask a question and it involved explaining the entire story first. It sounded like they wanted the entire audience to know exactly what transpired from the moment the got out of bed. As the majority of what they were explaining prior to asking their question had nothing to do with the topic at hand and some even lost their train of thought while speaking. Ugh I could not wait until it was over, and being that I was rating the presenter unbeknown to him there was no way I could leave and or let on that I was doing such. Funny though he handed each persona a note pad and paper so they could take notes, if only if had included that they could write down their questions and speak after the presentation he would have been done on time.