UNIFYING the two KOREAS?? will it be possible in FUTURE?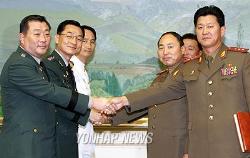 South Korea
November 18, 2006 7:46am CST
Just today we being international student in Seoul, visited Joined Security Area at Soth-North Korea border. Enjoyed alooot there.. and although i wish them to unite but it seems difficult in near future. As both sides seem aggressive and also due to the priorities of UN and USA situation of uncertainity may linger on... Let c in future.. and hope for some even like in German:)..... How you see this situation???
6 responses

• United States
25 Nov 06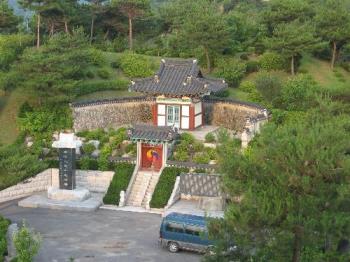 I have traveled to South Korea twice to teach English to students in the rural areas. On one of my trips I worked with a group of high school and college age students. They were split on unification. The college students favored it and the High school Students opposed it. the college students saw it as one language, one culture, one people and one Country. The HS students saw it as more competition for jobs. I would like to see Korea one country. South Korea show what can happen when a peopleare left to decide for themselves what they want for their country. This is a good post

• South Korea
25 Nov 06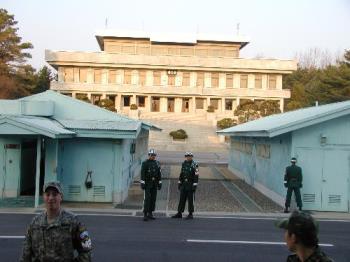 Its really nice to see yours comment Sir, I am Pakistani and doing my MS Engg from S.Korea. Everytime i met English USA teachers here i had a interesting and fun gossip with them. I too wish unification of split koreas. Recently we visited DMZ zone at border through international students organization and have a memorable trip. Here is a picture of that..( The buildings in blue are the meetings points of Govt Officials including Bush etc. The brown building is the North Korean. The rock soldiers are from S.Korea and also a UN soldier.)

• United States
24 Nov 06
I do not know much about why North and South Korea are divided. Why are they divided? If I know this, I can probably speak to whether or not they will likely be reunified.

• United States
25 Nov 06
It was a tempory dipolmatic solution after WWII. Diplomats like to make everyone happy so Russia gaind control over the the Nothern (Industrial) part of Korea and the US and others got South Korea (the farm Country). The Line was decided at the 38 parrall of lattitude. On that date the border was closed and you lived where you were. Families were divided and seperated. After the Korean Police Action (as declaired by the UN) the Demilitrized Zone was created. One of the side effects of this was the total stop of migration of animals to the south. While visiting in south Korea I detected a distrust of the American Government but a love of the American People. I look forward to retuning tto Korea to teach Englishagain.

• Pakistan
18 Nov 06
nice topic n discussion zia, im quite ignorant on it though....so i cant really comment. tc brother

• South Korea
19 Nov 06
thanks sadaf .. and its nice that u understand the imp of topic inspite of yours deep knowledge. I just reached S.Korea 3 months back for higher education and before that i was also ignorant. I am still trying to capture the real situation here but i feel that its probably bad than the situation b/w india and pak. But at the same time im hopeful as well as these nations are very well disciplined and sometime will come when both realize and will take serious steps for unification.. :) Everytime its pleasant to see yours reply...

• United States
12 Jan 07
Well, I have been to South Korea. S. Korea really wants to reunify but the problem is with the N. Korea's government. S. Korea helped a lot to N. Korea after the Korean War, because as the S. Koreans say in N. Korea people are really poor and hungry, so S. Korean government helped them financially too. There are many familis that got seperated during the Korean war, that is why S. and N. Korean governments created the Sunshine Policy, and this policy enables seperated families to see each other once a year for three days. I think it is N. Korea's turn to do something if they want to reunify.

• South Korea
19 Jan 07
Thanks dear for you comments. I am studying in S.Korea and i think now im getting settle and started enjoying korean culture as well. But i guess people of other side are good as well. But main constraint in unification that S.Korean people feel is the difference in economy. But I am still hopefull for some good turn in future.. Let c :)

• India
23 Nov 06
mau be and may noy be. sitting here we cant say any thing. east germany and west germany got unified. they too had the same opposite govt. just like the koreans. both sides are aggresssive.