HONEY BAKED HAM VS TURKEY- for thanksgiving dinner

United States
10 responses

• United States
16 Nov 10
I'm very traditional when it comes to holidays with food. I always have a Turkey on Thanksgiving day. I love turkey its so yummy. I love the honey glazed ham for Christmas. I see you you said you make apple cole slaw. How do you make that, that sounds really good.

• United States
19 Nov 10
it is... and its really simple, i got the recipe off, bettycrocker.com. here's the recipe: 1 bag of coleslaw mix 1/2 cup of chopped green onions 2 apples, cored and cut into matchstick pieces 1 cup of light honey mustard dressing ( i also like to add handfull of raisins) all you do is mix the ingridients together and tada! really yummy!

• United States
15 Nov 10
Personnally, I like both. When we prepare our thanksgiving dinner, we always prepare both, the turkey and the ham, along with all the trimmings.

• United States
15 Nov 10
I personally love ham. I hate turkey. I hate the dryness, and the look. Every time I see turkey legs, I want to throw up. But honey glazed ham is the bomb diggitty!!!! lolzyz

• Philippines
17 Aug 11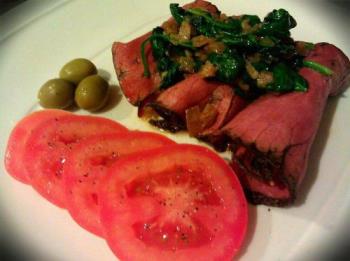 I would go for the traditional turkey. I never really liked ham no matter how it is prepared and no matter how good is the presentation. Ham is a very unhealthy food. Being a processed meat it is loaded with cancerous coloring substance called sodium nitrate and injected with lots of unhealthy synthetic additives. So I can never enjoy ham at all.


• United States
16 Nov 10
I have to honestly say I am not crazy about either one, but I always make a turkey because it's the only time each year I ever make one! I also prefer the sides that go with turkey, although of course many of them, squash, applesauce/appleslaw, sweet potatoes, etc. go equally with both ham and turkey. But I like to serve turkey for another reason--it makes everyone sleepy after the meal and so we all get to take a nap without looking rude!


• United States
16 Nov 10
i LIKE BOTH OF THEM & USUALLY FIX BOTH BUT I'M GOING TO MY SON & DIL'S THIS YEAR SO DON'T KNOW WHAT THEY ARE GOING TOHAVE. hOPE U HAVE A GOOD THANKSGIVING.

• United States
16 Nov 10
I just don't see why people have a hard time doing something other than turkey for T-day! Think about it and you'll see it is nearly a waste of money as you are paying for all that bone and "innerds" at whatever per pound! IF you buy a ham...its all meat you are paying for...unless you get a bone-in then you pay for the bone, but those usually go on sale for around 50 cents a pound so it is kind of affordable. And give the dog the bone! Can't give turkey bones to anyone! I love the honey glazed and my own version of brown sugar glazed hams and have been complimented on it. Turkey can get so dry, but that luscious brown sugar glazed ham....moist and juicy every time! Why not cook for your own liking instead of tradition? I have even mentioned to my family...why not mexican food, italian or whatever we all like? We used to do pot lucks or assign items per person, and that was good. But if you have to choose...chose the brown sugar or honey baked ham!!!!

• United States
15 Nov 10
Uuumm well I'm part Italian so in my family there is a LOT of food even when it's just my parents and me...We usually have both and wow that's a tough decision I can't really pick just one cause I usually am the one making the dinner at like 5 am :/ Honey Brown sugar glazed Ham with Pineapples,and Stuffed Turkey and cranberry sauce and Pasta mmmm just everything it's my 2nd favorite Holiday! :) but if I had to make a chose I would say Turkey cause it makes ya sleepy during the game! plus it's good with sweet corn bread. :)