Sims 2 cheats

South Africa
November 18, 2006 8:20am CST
Any one who like to play sims and are familiar with the cheats.List it here.
6 responses

• United States
21 Nov 06
If you type "help" in the cheat window it will give you a list of very useful cheats. nothing spectacular but it helps with remember some of the ones for modifying things. I like the one that came with pets for modifying the angle of the roofs. I also use boolProp a lot but my husband has been using and screwed the game all up because he doesn't understand what all the stuff does. He had his guy get pregnant somehow (he had twins). That was after he accidently added a baby to the family and got the wife pregnant using the tool. It was crazy. But then error messages started popping up because he screwed it all up. I never have any problems when I use it.

• South Africa
22 Nov 06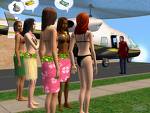 Hi Thanks for the tip. I had a good laugh about the guy being pregnant.LOL

• United States
22 Nov 06
You have to love pregnant guys on the sims, lol. My husband was playing and all of a sudden said his guy was really getting fat but he was making him work out and couldn't figure out what the problem was. I took one look and was like--uh, he's pregnant. Problem was the family didn't even own a telescope so there was no way he had been abducted. It had to be him messing around with boolProp. He tried to remember what he did but couldn't. He had already accidentally given the family some random baby and it wouldn't grow up to toddler so when the guy's twins were born (which were his wife's some how and were not aliens) they were all babies. And they wouldn't grow up and he insisted aging was on the wife also had a baby. So he had 4 babies and finally got one to become a toddler (one of the twins I think). He has no concept of continuity, lol. I would have at least made the oldest a toddler. It was funny. He gave up a little after that and unfortunately the computer crashed and we lost that family. I just love the sims. There is so much you can do to those little people. I like having control over someone (since I have no control over my own family or life, lol).

• Philippines
30 Nov 06

Haven't played Sims 2 yet only The Sims lately. I search for it's cheat on yahoo and i got so many results. one of them is if you want to make more money or unlimited money just press ctrl + shift + c and then a text box will appear on the upper left corner of your screen, there you'll type the "!;" several times until you reach the end of it. press backspace and press ":". i just hope this is right:)

• United States
24 Nov 06
I love the sims2. Here are some cheats. I only use the money one and the aging off one so I don't know if they all work. Misc. Codes Press CTRL + SHIFT + C to access the cheat window, then enter the following: Cheat Effect exit closes cheat window expand expands or contracts cheat window kaching get 1000 cash help -all list cheats autopatch (on/off) lets you know if theres a patch moveobjects (on/off) moves objects and deletes you couldnt before vsync (on/off) increases game performance but lowers graphics StretchSkeleton makes your sims larger or smaller aging off turn off aging aging on turn on aging motherlode 50,000 simoleans faceBlendLimits (on/off) turns off facial bounding limitations. It prevents the normal corrections the game will make for two parents with very different facial structures. boolProp snapObjectsToGrid true/false You can place objects outside the grid. intProp maxNumOfVisitingSims 8 You can invite more people to your parties. boolprop constrainFloorElevation false Allows you to change elevation of floor tiles. boolprop constrainFloorElevation true Disables the ability to change elevation of floor tiles. clear Clears all cheat codes on the screen, but codes are still in effect. slowmotion Puts the game in slow motion. Enter any number that 0 through 8 (0=fastest and 8=slowest) boolprop lotTerrainLighting (True/False) Set to false and lots will not light up when highlighted in neighborhood boolprop displayNeighborhoodRoadsWithModel (True/False) Set to false to remove bridges from neighborhood. boolprop displayLotImposters (True/False) Set to false to removes house graphics from neighborhood boolprop displayNeighborhoodWater (True/False) Set to false to remove water from neighborhood boolprop displayNeighborhoodFlora (True/False) Set to false to removes trees/plants from neighborhood boolprop displayNeighborhoodRoads (True/False) Set to false to remove roads from neighborhood boolprop displayNeighborhoodProps (True/False) Set to false to remove props like rocks and towers from neighborhood boolprop lotWater (True/False) Set to false to remove removes water (ponds) from lots boolprop lotTerrainPaints (True/False) Set to false to remove floorpainting on lot boolprop carsCompact (True/False) Set to true and cars will have more detail in neighborhood boolprop lotInfoAdvancedMode (True/False) Set to true to show lot information boolprop objectShadows (True/False) Set to false to remove removes shadows on objects outside house boolProp guob (True/False) Set to false to remove shadows on objects inside house boolprop renderSelectedSimLevel (True/False) Set to true and walls will no longer cut away from selected Sim boolProp displayPaths (True/False) Set to true to see the path where the selected Sim walks to boolprop displayLookAtBoxes (True/False) Set to true and blocks appear on Sims faces and on parts where Sims look at boolProp simShadows (True/False) Toggle shadows on/off for Sims boolprop ShowLotPackageFilename (True/False) In neighborhood, shows filename of house when lot is highlighted boolprop locktiles (True/False) Set to false to place floor tiles outside lot boolprop allObjectLightsOn (True/False) Set to true to light up objects continuously instead of only when used social_debug You can tell what social reaction will happen before you do it RoofSlopeAngle (15-75) Changes the slope angle of a roof boolProp testingcheatsenabled true/false if set to true ALL other cheats work. boolprop allow45degreeangleofrotation true Use your , & . keys to rotate the objects. It allows you to put objects on angles

•
22 Nov 06

I love playing the sims 2 it is such a great game there is sooooo much you can do in it:) im not familiar with any cheats for the sims 2 but i do remeber the one for the first sims lol if you held control and x it made a little box in the corner and you typed in rosebud then enter and it would give you 1000 simoleas:) I uninstalled my sims 2 because i was upgrading my PC but now i think im gonna play it again now:)

• South Africa
24 Nov 06
Adding 50.000 (money):Press ctrl+shift+c, type in the box "motherlode" then press the enter button. This way is faster than typing "kaching". It was a hard work to find this cheat.