a scooty!! so dangerous.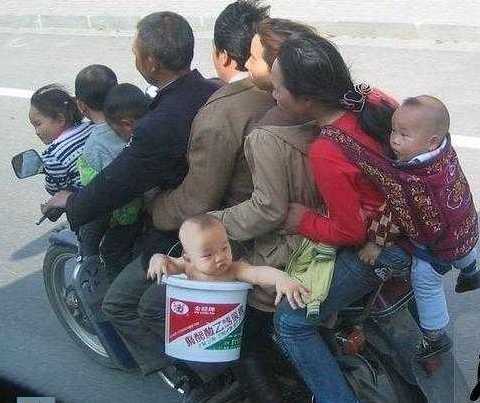 Philippines
5 responses

• Gold Coast, Australia
21 Nov 10
Hi Ann, that is very crazy indeed! When I was in China I saw many scenes like this with whole families on motorbikes. But not as many as in this picture. That baby in the bucket is the worst bit!

I saw two large palm trees being carried on a motorbike as well. I wish I had gotten a photo of that!

I have a motorbike licence, but no motorbike at the moment. I do plan to get another one, but I would not put any of my family on it with me at all.


• Philippines
22 Nov 10
hi rawbill, it sure is crazy but i cant help but smile and get worried. i havent seen a family of passengers like that in real, but what i saw was a motorbike with a sidecar with people inside the sidecar (about 5), two back riders on the motorbike, and the rest on top of the roof like sprouting mushrooms (also about 5). i myself would never make an exhibition like that.

too dangerous! ann


• India
21 Nov 10
Hi Anny dear I have a LML Vespa scooter and my daughter in law has a Activa scooty, lol all are desinged for just two, i mean self and one in back, i usually go temple with my wife on the pillion seat.. Oh my god the picture you shared shows 9 in one scooty, just wonder how strong the frame is, to carry this load, are such scenes common in your place? Here if there are more than two on a bike, scooty or scooter, the police imposes a fine lol.. Thank you so much for sharing
Professor.
. Cheers have a great day ahead. God bless you. Welcome always.


• Philippines
21 Nov 10
hi professor, shocking though it seems but there is proof that people do these kind of driving. it is irresponsibility and hopefully it is stopped. bringing in passengers as many as that is very dangerous. and you wouldnt believe it but we have that version too somewhere in the province. we call it habal-habal where motorcycles place long lumbers across the vehicle three on each side and make passengers ride it and they pass very bumpy and dirt roads. these passengers are really brave because i will never ride anything like it. ann


• Philippines
21 Nov 10
OMG! the picture was really shocking and at the same time scary for me! those two babies are at a great risk! babies are really active and likes to do a lot of gestures so there can be a time they can just fall off that scooter. i dont think that its appropriate to still use a scooter if you that big family and scooters are usually for 2 people only so its really inappropriate. a little rock you just passed by will put your passengers at danger. so please everyone, dont do that!

• Philippines
21 Nov 10
hi yanyanyow, i too was very worried looking at the babies. what a dangerous way to carry children. ann



• United States
23 Nov 10
Wow, my husband does have a moped and there have been a couple of times that he has taken Paul up and down the street for a ride on it. However, I don't think that there would ever be any kind of a situation where the four of us would all try to ride on one. The reason that I wouldn't want to stack the entire family on a single scooter or moped is because of the fact that I don't think that there is any kind of a situation where something like that would be safe.