What Changes you expect to this planet in Year 2011 ?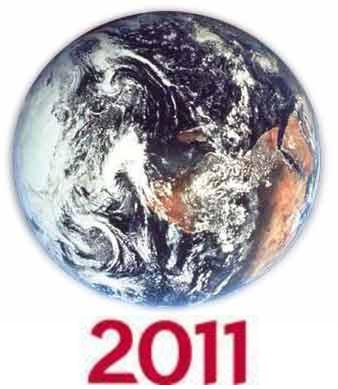 Chengalpattu, India
November 25, 2010 3:39am CST
With the increase in Rate of Changes in world with negatives like- Environmental/Nature like Global warming, Tsunamis, Earthquakes, Lavas, heavy rains and floods and even pollution. Unemployment problems, loosing jobs, homes and food starvation around the world. Increase in terrorism, bombings, war, racism and even hatefulness. Economic and nuclear problems. And many more... And with Positives like- Increase in Development in Technology, Increase in Rate of Education, Cultures, sports and political changes. Heavy growth in Industrial cities and Scientific expeditions. And many more... With all these, n the upcoming year 2011, What all new changes, developments, improvements and even destructions u expect, i mean wat all Positive and negative changes u expect to our planet in year 2011??
6 responses

• Singapore
25 Nov 10
The weather will be stranger and the world will see more natural disaster. Because of the disaster, there will be a shortage in food supplies and price will increase. Price of oil will increase and result is price of other stuff to escalate as well. People will feel more stresser and lives will be harder. The good. China will grow from strength to strength. The world no longer only depends the US for economic growth.

• Philippines
25 Nov 10
I see nothing great in 2011, only humans struggling with nature and each of our kind. Well I have met a lot of girls lately and next year it may be a good idea to develop friendship to some of them.

• Philippines
25 Nov 10
Next year i'm focusing on the movies and games that'll be released. I bet there will be a lot of mind-blowing movies that'Ll hit the big screen next year. Games industry are constantly creating cool games recently like 2k sports and thq. Can't wait.

• India
25 Nov 10
I have a great dream that i wish to happen in 2011.........people from all over the world join together and remove all the terrorists from this planet. Each one should try their level best to stop terrorism. We have no guarantee for our life, if we do not take any action against them. This is my only dream about 2011......

• Indonesia
25 Nov 10
seems to be little change because of the rich in this world never thought about these things and make the poor continue in the stampede and the oppressed, rakya voice sounded angry and very blind because it may be many demonstrations and disorder will increase because the government in they know the sound is just figment just not a lot of little changes, every year there are new models from each manufacturer and will be the trigger robbery because one's inability to have and the more easily hurt because of the select does not deliver the sound that screams for a little in listening to why terrorists, racists and others will grow and become a spiritual war between the people and government .. revolution is not a wrong choice if it wanted to change the economic crisis will increasingly felt when the ruling government wants melaga each other .. be careful because of the impact of low morale more danger than those of other.........


• Philippines
25 Nov 10
NEgative things: -more negative things. -more tsunamis -more volcano eruptions -more killings -more abandoned babies found in airports -more women giving birth in either inside of the airplane or in the airport -more corruption -more global warming effects -more racism -more sexism -more crimes Postive things -i expect us, the people of this planet to do something about the Negative changes i stated above and work together for the sake of our planet. That is all :)