I'm schocked by WikiLeaks case...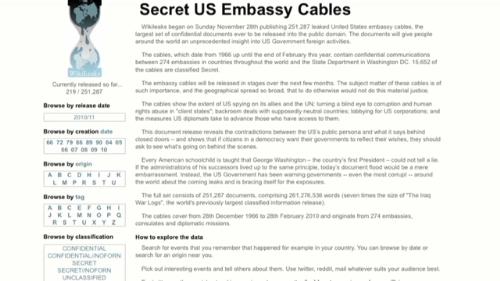 Latvia
December 1, 2010 8:45am CST
I felt really shocked and confused when heard today that INTERPOL had added WikiLeaks founder Julian Assange to it wanted list. All that is happening seems to me as a great performance of lies and hypocrisy from the side of the USA. It was just yesterday when the officials of USA (Hillary Clinton, for instance) was saying: you know, no reason to worry, it's nothing special that WikiLeaks has revealed about USA diplomacy, just metaphorical conversations...And so on. But the very next day they order to catch J.Assange! For what??? I am not an expert of diplomacy or politics, so I really don't know how to evaluate the documents of WikiLeaks - are they as important or not and what do they show, but I hate a "double-dealing".
9 responses

• United States
1 Dec 10
From what I have read it is NOT the US that put him on the INTERPOL list but Sweden. Sweden has been investigating him on charges of rape sence August. They are the ones who requested his arrest so they can question him about the two women that are accussing him. Who knows if this is just a ploy to get their hands on him. We will have to wait and see how it plays out. His side of the story is that the two women are lying and that they only put these charges up against him after they found out he was having a relationship with both of them. Who knows who is telling the truth.

• Latvia
1 Dec 10
You are right, lilwonders456. I'm sorry I had misunderstood the news I heard today. Actually Sweden was the country which put him on the INTERPOL list, as you said. But the assumption that the US had inspired the prosecution of him was just the opinion coming from Julian Assange. However, it is really strange that the INTERPOL has began to look for him just these days when he has announced that there will be new documents published in WikiLeaks in the nearest future. It sounds like an attempt to to intimidate him. But, or course, there is no formal evidence to such an assumption.

• United States
1 Dec 10
The timing is suspicious. Personally I think this guy has ticked off enough countries and world leaders that I think they are investigating him to find anything they can to stop him. These charges could be true...they could be false. Who knows. As I said...we will have to wait and see what happens. Right now no one knows where this guy is...so they may have a hard time finding him.

• United States
1 Dec 10
thought I would give you an update. It would seem the US MIGHT have gotten a seal warrant for his arrest. Also some elected officials are trying to get wikileaks declared a terrorist organization so that the US government can freeze all its assets. There is talk of him maybe being detained as a "enemy combatant" if the US gets a hold of him. which means he gets the same treatment the guys at Gitmo get. Amazon has stopped being it's US server. I am guessing due to BIG TIME preasure from the US government. check out cnn and fox and other news organizations and you will read all about it. I don't really know how to feel about this right now. I don't want lives in danger...but then I also don't want the government to be able to label whoever they want as an "enemy combatant" just because they speak out critically of our government...or try to prove they have committed illegal acts. This is getting interesting...but not in a good way.


• United States
1 Dec 10
There seems to be a lot of sleaze in this drama. I don't like the double dealing of the government, but I hate those that betray as well. The selling of classified information will certainly serve to keep anyone from giving need information, for fear of having their names published in the courthouse square.

• Latvia
1 Dec 10
I agree with you that cases like this could serve to keep people from giving need information, for fear of having their names disclosed. But I don't think that WikiLeaks would be responsible for that. These were the institutions which were not able to save their information, not WikiLeaks. I think it's totally wrong to blame the website which disclosed the documents. They just dis their job. If the authorities will succeed in putting Assange in a prison, then the other people will be in fear - these who have an important information about lawless actions or whatever. They will be afraid to give the facts for publicity, because, if you do so, you are risking to get persecuted. In that's a feature of a totalitarism.

• United States
1 Dec 10
I don't have any idea whether the young man sought out wikileaks or if it was the other way around. He is the betrayer, but the common good was not served by publicizing the material. And if they were the instigators, they should be charged with espionage.


• Philippines
2 Dec 10
I believe it was Sweden and no its not double dealing but more of a precautionary measure perhaps by any government believing the guy has something on them. Paranoia. If a government has something it wants to keep a secret then they would definitely be wary of Assange. But if indeed he is guilty of rape and this is not just a smokescreen then I believe that the INTERPOL should investigate his case, otherwise, they should just release the guy.

• Latvia
2 Dec 10
I'm also convinced that every offense should be investigated. And, if there is a reason, a person who committed a crime should be punished. But here the conjunctions we see look very suspicious. It seems that they want to catch the young man to obtain the names of the persons who handed in him the secret documents.

• Philippines
3 Dec 10
I agree with you. That's why I said earlier that this could be a precautionary measure. He has been leaking information for quite some time. Is the INTERPOL investigation really about the information he hold or the rape accusation is something that will have to be determined, though you're right it is very suspicious, the timing is just too close

But in any case interpol will only investigate, he will be properly incarcerated by the courts with the proper jurisdiction. Now the problem would be what INTERPOL would do with him once they arrest him for investigation...


• United States
1 Dec 10
I think in a general sense the information leaked is dangerous and has fallen into the wrong hands. Some of the information though is good, we can see how the world, views Iran for example, we can see the biggest donors to Al Quaida etc but some of the information hurts diplomatic relations and can cause a lot of tension betweens nations. The calls for arrest as you stated are part of a long term investigation but could be motivated now by damage control. I feel even having him arrested will solve nothing, I am sure he has prepared for that and has someone to take over the release of all the new information. I suspect the new bank information will be either Bank of America or Goldman Sachs.


• United States
2 Dec 10
Just felt a need to correct you but Amazon threw them off their hosting service and are being hosted in Sweden only as far as I am aware. I am blaming here for creating the platform which is being used for the bad. If it was only good then we would not complain but a lot of the information is hurtful and dangerous. I am holding those that leaked the information out responsible as well, sorry if that wasn't clear as he didn't steal it, just have the user what they needed and in some form encouraging more theft.

• United States
5 Dec 10
Nice bit of America bashing you're engaged in here thommas, even after several people pointed out that you didn't get your facts straight. Let me ask you something. If there was someone out there that was trying his best to disclose YOUR country's secrets and do it harm, would you think it wrong that your government would want him stopped?

• Latvia
6 Dec 10
Thank you for the response, millertime. First, it's not about "if there was...". By disclosing the secrets of the USA, Assange has already disclosed also some secrets of MY COUNTRY. In the correspondence between the Embassy of the US in Riga and the government of the US there appeared some facts about MY COUNTRY'S politicians who have strong ties with the government of Russia. By the help of WIkiLeaks the society of MY COUNTRY has got to know that some politicians have been influenced by Russia to adopt a certain position in a relation to the war in Georgia. Although we cannot be sure that these facts are true because the Embassadors often base their reports on local rumors, newspaper articles and other unchecked sources, generally I think it's a benefit for MY COUNTRY. Of course, it's hard to imagine how would I feel if there was someone who had disclosed the correspondence of the Embassies of my country. It might be that I wouldn't think it wrong that my government would want him stopped. But I clearly know that I WOULDN'T BLAME THE PLATFORM/MEDIA/PUBLISHER in such a case! I would blame the treacherous employees of the institutions who had disclosed or made easily disclosable the secret documents and would want them punished. Not WikiLeaks!

• Canada
8 Dec 10
it might be coincidence it might be not but because he is now famous, he is more traceable if he does it under the radar, he won't be easily found I can't say that he is innocent because everyone has flaws but by doing what he is doing, publicly it makes him more of a "target" than otherwise anyone who wants him down, has to do it fast

• Malaysia
2 Dec 10
Either way, I guess he got to be warned the hard way. The main reason is because regardless he is doing it for money, truth or whatever, he is making the world into shock and panic. I think, making the world being a little unstable will definitely be punished! .

• Israel
1 Dec 10
Wow, I had not heard that, but that is seriously wrong on so many levels! It will be interesting to see what happens!