Those quirky Grandparents...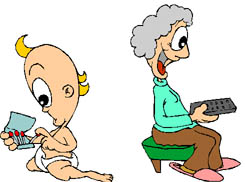 Australia
December 1, 2010 11:12pm CST
We are planning a holiday to Victoria in January. We live in Western Australia and Victoria is on the other side of the country. There is 2730 kilometers or 1696 miles between the two states which explains why we don't get over there as much as we would like. My husband was born in a country town, he comes from a large family and they all still live there. My daughter is very excited because she missed her Grandpa; we'll be living on his farm for a week and she can't wait. The only downer is that we won't be seeing Gran who passed away two years ago. It is sad for my child because my mother is not as affectionate as Gran was so I feel my daughter is missing out on a loving Grandmother. My husband and I got talking about Grandparents the other day as we wondered if we'll ever have that job one day. He told me about quirks his grandmother used to have like asking you whether you would like any more food as she spooned a mountain on your plate! His paternal gran used to suck the inside of chocolates and put them back in the box and she used to grab him and his sister as they were waiting for the school bus and whisk them inside for hit chocolate so they would late for school on a regular basis. My maternal Grandmother used to break wind whenever she used to get up to change the TV channel and it used to throw her off course so she would sit down and forget why she got up in the first place! They are some of the funny quirky stories that make up the wonderful array of memories of our Grandparents. Do you have any reminiscences about your Grandparents quirky or otherwise? How do they make you smile?
7 responses

• Malaysia
2 Dec 10
Australia is such a big country where the distance from one state to the other is thousands of kilometers away and going for holidays to another state is just like taking a vacation to another country. It is definitely going to be an interesting journey and a pleasant holiday for you and your family. Unfortunately I no longer have surviving grandparents but their memories still lingers on especially my grandfather who used to come over to our house to drink with my father. He was a great drinker and can drink endlessly till the wee hours of the morning. I remembered one incident where he called out to us one by one and asked us to parade in front of him. In his drunkard state he would start giving his lecture much to our dislike cos he would go on and on without stopping until we made excuses to leave like wanting to go the toilet and never come back after that. One funny lectures that I can never forget up to know was how he expressed his words in his splattering English (he liked to speak in a foreign language when he was drunk and that was always English) with his finger moving like a car wiper he would start saying...'Nooo gambriiiing (gambling)....noooo smooooking (smoking) and noooo driiiiinking (surprisingly). It has become a household jokes now whenever there is drinking session at my mom's place and my brother would mimic grandpa's words with the right action which made everyone burst into laughter.


• Australia
2 Dec 10
That is a lovely memory! Your grandfather sounds like a character! I have no living grandparents anymore either. My husband has funny stories about his gran like the time she thought she was dying and called the grandchildren to her room one by one and told them of something she left for them. When it came to my husband's turn she told him there was half a tin of Milo and some Vegemite in the cupboard for him (LOL)! She didn't die by the way; she went on to live for another twenty years! Thanks for being here zandi!

• United States
2 Dec 10
Both sets of my grandparents are deceased. I didn't know one set..but my maternal grandparents..I loved my grandpa he seemed to always be in a joyous caring loving mood while my grandma well,lets say they were like mixing oil and water most times..lol..she wasn't always in a mood so that was good. But she was easily angered. I have all good memories about my grandpa..and hair raising ones about my grandma..but I know she loved and cared about me. It is those memories we love that we hold dearest to our hearts.....





• Australia
2 Dec 10
That would be such a great idea! There are so many elderly folks out there who are alone at Christmas and would love to have a family to spend time with especially one with children! It's something I should discuss with my own family because it would be a lovely thing to do!


• United States
2 Dec 10
Both sets of my grandparents are octogenarians, I simply love them, next summer I am planning on taking my son to see them all. I am sure that he would love them as much as I do. Hopefully I will take a group photo with four generations in it.

• Australia
3 Dec 10
I'm sure he will. It will be a great experience for him. Elderly people have so much to teach us, I love listening to their stories and the wisdom in their words. I recall chatting to one of my husband's grandmothers, she was 99 and told me all about the day World War II ended! Thanks for the response Jananipriya!


• Gold Coast, Australia
5 Dec 10
One of grandmothers was always trying to make me eat. She was always making all these cakes and things which were great when I was a kid, but you would eat until you felt so sick half the time and she would still try to shove more food at you. She still thinks that I am too thin!

Luckily I do not see her often as she lives in Victoria. Otherwise she would still be nagging me to eat! Last time I saw her and my Auntie who is her daughter, they kept at me telling me that I am too thin. I didn't have the guts to tell them that no, I am not, it is just that you both are too fat! But I should have!



• Australia
9 Dec 10
Sounds as though you are generally healthy and that your grandmother and auntie have nothing to worry about (LOL)! My maternal grandmother lived the longest but was a bit of witch so I can't say I missed her as much as I did my paternal one....

• Gold Coast, Australia
9 Dec 10
My wife's grandmother was a bit of a witch. She was a horrible person. I do not have too many bad things to say about too many people but she was extremely painful to be around. Everyone was so relieved when she passed away about 5 years ago.


• United States
14 Apr 11
Well I have a lot of fun memories from when my grandparents were alive, and many fun times. There were also a lot of things that I may not have always agreed with and found a little odd, but since both of my grandparents on my Moms side are gone now, the memories are cherished for sure, and Yes, a lot of the time we do miss them. This sounds like a Fun trip to be had for sure, and hope it was enjoyable.

• Australia
15 Apr 11
We had a great time although everybody missed Gran! It is lovely to reminisce about the special times with grand parents. Wouldn't it be nice if they could be around forever? Still I believe we will be together again one day...Thanks for responding KruauseHome!

• United States
4 Dec 10
Oh gosh, I'd visit my grandparents as often as I could when I was young. I had lived with them for two years too and were very close to them. When I moved out on my own and go visit with them, my grandfather had polio so he couldn't move around as much as my grandmother could and she see me out the sliding glass door. On a decent night/day she'd watch me leave the driveway and a lot of the times, instead of going to my car, I'd run back up the driveway and give her kisses through the screen and she'd laugh at my antics. I'd continue to do that till I finally HAD to leave or I'd be late to where ever I was going. lol We'd just giggle and laugh ourselves silly! Now when I'd give my granddad a kiss goodbye, he'd say 'Oh baaaaa!' like a sheep. I'd go 'Oh baaaaa back to you granddaddy!' and we'd laugh. One thing I remember very vividly is when I was just a kid, my granddad had a large large belly that was very well rounded and when he went to bed, my grandmother would be taking a bath and I'd go into their bedroom and find my granddad laying on his back with his t-shirt pulled way up and I'd jump on the bed and rub his belly saying, "oh my granddaddy's belly" and he'd pull his shirt down all the while 'baaaaaaa ing' at me. LOL Oh those memories I wouldn't trade for any amount of money in this world!! I have many many more too and I hold them all close to my heart.


• India
2 Dec 10

hi paula..u really made my day...i laughed and laughed...also showed it to my daughter...

i am very unlucky that i saw only my maternal grandmother...and that too i didn't got too much time to live with her...as she lived with her sons and grandsons...but i used to visit them sometimes...i can't recall any instance to state here...but nice to hear from you ...